The building at 2017 Chouteau, known as the Centennial Malt House, was built in 1876 as part of the  Joseph Schnaider Brewery complex.
Merged with the St. Louis Brewing Association in 1889, Schnaider's brewery was shut down within a decade. The Chouteau Avenue Crystal Ice & Storage Plant occupied several buildings; other property including the garden was razed for the enormous International Shoe factory. Eventually, the malt house was relegated to use by a truck parts company. Things looked pretty grim when Wendy and Paul Hamilton, owners of the nearby 1111 Mississippi restaurant, purchased the property in April 2005. Faced with a tight timetable, Paul and his restaurant staff spent many extra hours working alongside an army of contractors led by Spiegelglass Construction Co. Office space under construction on the first floor is already leased; the rooftop bar and bistro Vin de Set should open this June. National City Bank plus federal and state historic tax credits financed the $4 million mixed-use project designed by Tom Cohen. (Landmarks Association 2006 Most Enhanced Award)
To make renovation financially viable the building was listed on the National Register of Historic Places in 2005. Since the Hamilton's opened Vin de Set they've added PW Pizza, Moulin Events, Grand Petite Market, and the Malt House Cellar. They opened Eleven Eleven Mississippi nearby in 2003.
When I was there a few months ago for the 6th Ward Participatory Budget Project Expo I had no idea a solar carport was planned, it was a pleasant surprise upon arriving for dinner on Saturday.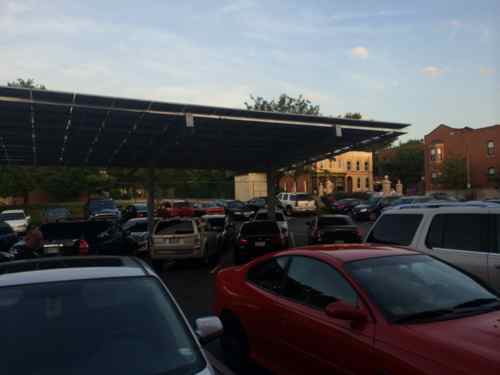 From a year ago:
Hamilton and his wife, Wendy, are investing $98,000 to have solar energy panels installed near the Centennial Malt House at 2017 Chouteau Ave., built in 1876, which houses Vin de Set, PW Pizza and Moulin Events. The 25-kilowatt, photo-voltaic system is expected to be complete by September.
As part of the project, the Hamiltons are installing a solar carport canopy on the east portion of the restaurant's parking lot. The panels will be adjacent to Ameren Missouri's headquarters at 1901 Chouteau, and Hamilton said Ameren will purchase excess power generated by the canopy. (St. Louis Business Journal)
Like most projects, it took longer to complete than originally planned. I like how, over the 9 years since they bought the building, they've added little by little to utilize the large building.  Missouri's Historic Tax Credit Program saved an otherwise unsalvageable building, creating many jobs and tax-generating businesses.  The Solar Investment Tax Credit, Ameren rebates, etc made this project possible.  Two tax credits working as intended!
— Steve Patterson