Despite the cold weather thousands came out Saturday to see the new Stan Musial Veterans Memorial Bridge a day before it opened to vehicle traffic. The shuttle we rode from 9th near Washington onto the bridge was packed tighter than the #70 Grand bus during peak use.   I overheard some saying how nice the bus seamed, likely their first time on a bus.  Our shuttle passed by the last two stops because we couldn't take on another passenger.
As we approached I wondered if there would be a break in the center dividing wall to get from the westbound lanes to eastbound lanes. There wasn't, instead the had ramps to cross over.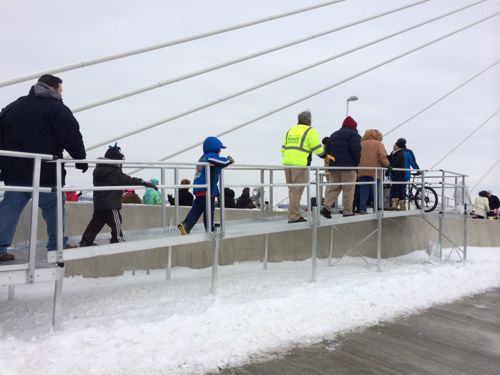 I don't have any stunning bridge photos, it was too cold & gray to attempt. We did stay through all the speeches at the ribbon cutting.
I look forward to driving across the bridge, and seeing it night. This is an interesting example of a very cost-effective structure type also being very beautiful, sometimes limited budgets can result in a better finished product than unlimited budgets.
Hopefully any new development at each approach will be worthy.
— Steve Patterson