An overwhelming majority of readers like bike lanes, at least according to the unscientific poll last week:
Q: Which of the following best fits your view of bike lanes:
Bike lanes are important, should be incorporated into street designs 75 [48.7%]
Bike lanes are a great idea that needs to be taken to the next level 44 [28.57%]
Bike lanes help keep cyclists out of my way when driving 16 [10.39%]
Bikes are traffic, shouldn't be segregated to the side 10 [6.49%]
Bike lanes aren't needed, give novice riders a false sense of security 3 [1.95%]
Bicyclists should use sidewalks, not have their own lane 3 [1.95%]
Doesn't matter to me 2 [1.3%]
Unsure/no answer 1 [0.65%]
This is despite some serious flaws in how they're often implemented, especially in St. Louis.
The bike lane often becomes part of the automobile right turn lane, novice cyclists move over the right instead of holding their position. A cyclist going straight ahead shouldn't be to the right of a car turning right — that's a formula for conflict. Other cities do a much better job.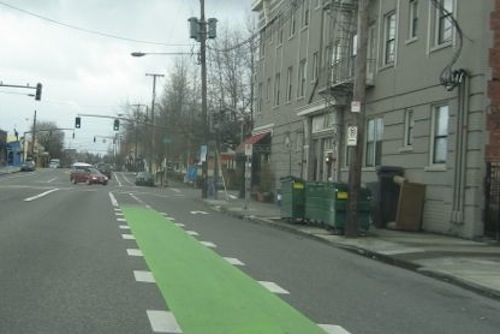 Bike lanes are great at keeping the cyclist to the right of vehicles, but leave the novice cyclist at a loss as to how to make a left turn. To turn left a skilled cyclist on the roads will make their way from the right lane, to left lane, to the left turn lane — just as you would if driving a car.  However, with bike lanes present, motorists get upset with cyclists who don't stay in their bike lane.  How do you get from point to point without left turns?
If we're going to have bike lanes I think they need to be designed far better, not just be a way to deal with excess roadway width.
— Steve Patterson