The last occupant of the large home at 3262 Hawthorne was born on August 5, 1908. No, the home hasn't been vacant for years, he died in January at the age of 104. The home was built in 1893. Here's his obituary:
Bokern Sr., Eugene A. 104, Fortified with the Sacraments of Holy Mother Church on Thursday, January 17, 2013. Beloved husband of the late Lucille (nee Lynch); loving father of Robert F. (Joyce), Gene Jr, John F. (Shirley), Edward C. (Nina), and the late Karen Sue Watkins; 19 grandchildren, 30 great grandchildren, brother of the late Robert and Francis Bokern; dear cousin, uncle, and friend to many. Services: Visitation Monday, Jan. 21, 4-8pm. Funeral at HOFFMEISTER COLONIAL MORTUARY 6464 Chippewa at Watson, Tuesday, Jan. 22, 10am. Interment Calvary Cemetery. Friends may express condolences at: www.hoffmeistercolonial.com – (Source) 
Last Sunday the house was open to lookers even though an offer had just been accepted, see listing & many photos here. A friend I ran into at the open house said he saw the place shortly after the owner had died. It was "stacked high with papers", he said. On Sunday all the stuff, including old carpets, had been removed. Ideally the original windows will be retained, appropriate reproductions would be very expensive and cheaper windows wouldn't alter the look significantly.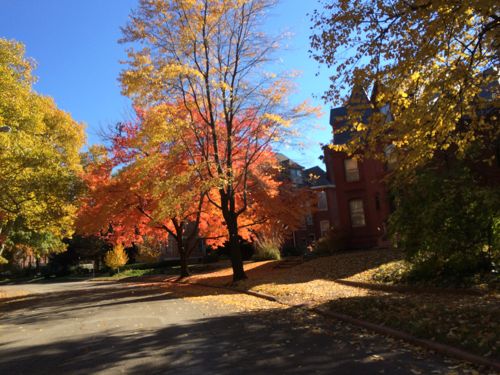 Apparently the owner had lived there since the 1940s, with few updates. Old boiler with radiators for heat, no central air conditioning. The kitchen and bathrooms were antiques. Fairly original houses like this are very rare, the buyers will have many decisions to make. Do they clean the stone exterior to look like it did in 1893? Or perhaps just a light cleaning so some of the old patina remains?
— Steve Patterson