Forty-four years ago today  a new children's program debuted that was very different from predecessors such as Howdy Doody (1947-1960), Captain Kangaroo (1955-1984), and Mister Rogers' Neighborhood (1968-2001). These earlier shows weren't set in the gritty inner-city. I was a few months shy of being 3 years old when Sesame Street first aired on November 10, 1969, so I didn't notice the change. Mister Rogers Neighborhood had only been on the air a year.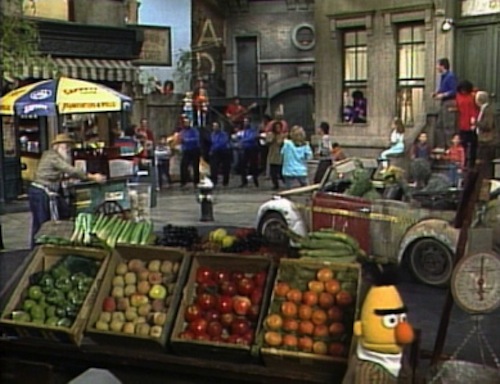 Officially located in New York City, as is often confirmed by regional references and the adjacent New York subway, Sesame Street was designed to resemble an urban, inner city landscape, recognizable to children although slightly idealized (though urban grunge was still well accounted for thanks to Oscar the Grouch). While many of the inserts took place in puppet-scale interiors, ranging from Ernie and Bert's apartment and Charlie's Restaurant to the countless walls or the varying game show sets of Guy Smiley, the main storyline scenes have always focused or at least begun on the street and its environs, outside of special location episodes. It serves as a meeting place for human and Muppet cast members alike. (Muppet Wiki)
My family moved into a brand new home in suburban Oklahoma City just months before I was born. Our subdivision lacked sidewalks, we had a 9-car driveway (3×3).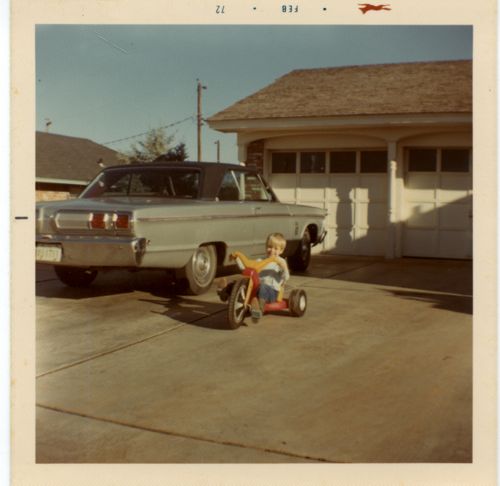 To my eyes Sesame Street seemed exotic, nothing like where I lived. Sure, I'd see neighbors, tinkering in their garages or sitting in a lawn chair  — on their driveway. But the interaction was different on Sesame Street, they couldn't help but run into neighbors as they went about their lives. Since my dad worked on new homes, I rarely got to experience older/walkable neighborhoods closer to those on  Sesame Street.
Thankfully our family doctor had his office in OKC's Capital Hill area, a once-thriving shopping area similar to the Wellston Loop. My father would also do carpentry work on his personal home from time to time, it was located in the historic Heritage Hills neighborhood, just north of downtown Oklahoma City. Otherwise I saw new homes going up in subdivisions far from the center. We drove to buy groceries, clothing, etc. — anything really other than a few things I might get at a convenience store I could walk/bike to.  We shopped at an L-shaped strip mall built in 1965 called Southwestern Plaza 1+ mile away, or a big Sears, also from 1965, a mile further away.Watching Sesame Street though, I knew there was another way to live.  I'm not sure when I got too old for Sesame Street, but the images of the conversations on the front stoop stayed in my memory.
Looking back, I think Sesame Street gave me a very positive image of urban neighborhoods.  This is the subject of the poll this week, the question being "How did Sesame Street influence your childhood perceptions of urban neighborhoods?"
Answers provided in random order are:
Very positively
Positively
Neutral
Negatively
Very Negatively
Unsure/No Answer/Not Applicable
The poll in the right sidebar for one week.
— Steve Patterson