Last week one of our busiest bridges was renamed/rededicated:
The span, colloquially (but inaccurately) known as the Poplar Street Bridge, was originally named for Dickmann, a former St. Louis mayor. It was renamed Monday for Clay, the former Democratic congressman from St. Louis.

In a rededication ceremony downtown, with Gov. Jay Nixon, Mayor Francis Slay and other dignitaries looking on, Clay and his son, current U.S. Rep. William Lacy Clay, D-St. Louis, pulled away a black veil to reveal the white-on-green sign announcing: "Congressman William L. Clay Sr. Bridge." (stltoday)
This will make the traffic reports on TV & radio significantly longer, if the new name is used.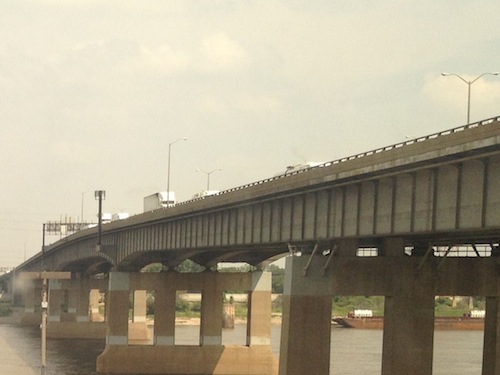 When I moved to St. Louis 23+ years ago it took me a while to figure out what the "PSB" was. Ah, Poplar Street Bridge…but it was actually the Bernard F. Dickmann Bridge. Confusing.
The poll question for this week asks what name you'll call the span in the future. Here are the choices in the poll:
Bernard F. Dickmann Bridge
Poplar Street Bridge
PSB
Congressman William L. Clay Sr. Bridge
Other
These will be presented in a random order in the poll (right sidebar).
— Steve Patterson