Today is the 20th anniversary of the opening of our original MetroLink light rail line. Since then we've added a line in Illinois and one in St. Louis County.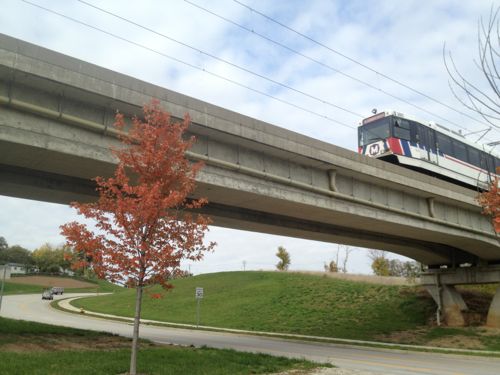 One thing we haven't really seen much of is transit-oriernted development (TOD). We've had a few projects that are, at best, transit-adjacent development (TAD).
TAD is TOD gone bad, development that is adjacent to transit but breaks all the rules that make TOD work, like making public spaces the focus of building orientation and neighborhood activity; creating pedestrian-friendly street networks that directly connect local destinations; and providing a mix of housing types, densities and costs. (TOD's Evil Twin: Transit-Adjacent Development)
In the poll last week I asked about the lack of TOD in the last two decades:
Q: Why do you think our MetroLink light rail stations haven't seen much transit-oriented development in the last 20 years? (Pick up to 3)
Lack of proper land-use controls, like form-based zoning 42 [13.21%]
Nobody pushed for TOD 37 [11.64%]
Regional fragmentation of leadership 37 [11.64%]
Regional job & population growth have been stagnant 37 [11.64%]
The station designs aren't conducive for infill development 31 [9.75%]
Located in bad locations. 29 [9.12%]
The alignment isn't convenient to many 27 [8.49%]
No demand for transit-oriented development 23 [7.23%]
We naively thought if we built it they'd come 17 [5.35%]
Used mainly for games, events, to reach Lambert airport 15 [4.72%]
Another reason not listed 10 [3.14%]
Our laissez-faire love of the free market 8 [2.52%]
Naysayers muted initial enthusiasm, halting TOD potential 4 [1.26%]
Park & ride lots are the best use of the land at the stations 1 [0.31%]
Unsure/no answer 0 [0%]
All of the above (except #14) are valid reasons, I think they ended up in about the right order too. A form-based code at the Wellston station would've required St. Louis County Economic Council building to acknowledge the presence of light rail.
When the county government doesn't do set a good example, how can we expect others to do better on their own?
In the last couple of years there has been a TOD push. Better late than never or too little, too late?
— Steve Patterson