Tenant management of public housing projects was a new thing forty years ago:
In 1971, brought together by frustration with poor management and maintenance, the residents of the Bromley-Heath public housing development In Boston formally Incorporated the nation's first resident management corporation That same year, St. Louis' public housing residents waged a rent strike against their housing authority to protest poor maintenance and rising rents In the wake of the strike settlement, the authority eventually delegated control over a number of management functions to newly-formed resident organizations at several Sites, Including Carr Square and Cochran Gardens. These events marked the beginning of the resident management movement, which today is viewed by resident advocates and policy makers as a potential solution to many of the problems facing America's public housing stock and the people who live In it. (HUD – Evaluation of Resident Management in Public Housing – 1992)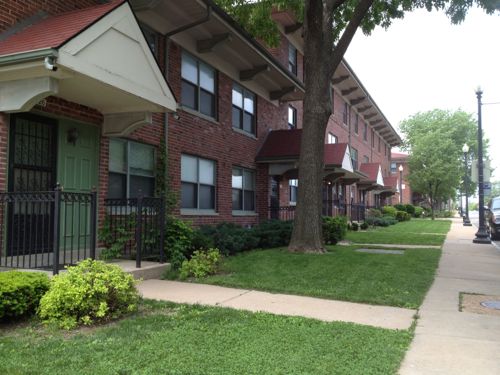 The St. Louis Rent Strike actually took place in 1969, it took a few years to get to tenant management.  The Carr Square Tenant Corporation was incorporated as a non-profit on September 27, 1972, before Cochran Gardens. Initially tenant management corporations had limited roles but over the years this has expanded greatly, especially at Carr Square. Rodney Hubbard Sr. is the Executive Director of the Carr Square Tenant Corporation.
Cochran Gardens leader Bertha Gilkey became a high-profile face of tenant management with a May 3 1991 visit by President George H.W. Bush to Cochran Gardens (read speech) and was honored by Oprah Winfrey in 1992. In 1998 the Post-Dispatch discovered Gilkey had charged thousands of dollars on Cochran credit cards for personal use.  The Housing Authority demanded the return of the credit cards and questioned expenses at Carr Square:
The new leaders of the St. Louis Housing Authority are questioning hundreds of thousands of dollars of expenditures at the Carr Square housing complex.

The biggest expense in question: a contract for at least $ 616,000 for telephone work at the development.

Meanwhile, Thomas P. Costello, interim executive director of the Housing Authority, said he also wants top officials of another public-housing development, Cochran Gardens, to return their credit cards. That demand followed publication Sunday of a Post-Dispatch investigation that showed that Cochran board chairwoman Bertha Gilkey made thousands of dollars of purchases for herself and her consulting firm on her Cochran- issued credit card. (St. Louis Post-Disptach 1/14/1998)
What's this about deficit spending? Take a look:
I obtained the 990s (non-profit tax return) for 2008-2010, the 2008 return also includes figures for the prior year, 2007. I've uploaded these to Scribd for review:
In the four years covered above they had revenue of $4,530,275 and expenses of $7,864,725, for a cumulative deficit of -$3,334,450. I'm not an accountant, but I know you want revenue to be higher than expenses. Much of their revenue is from HUD and other government agencies. I don't understand how this continues.
The St. Louis Comptroller's Office has reviewed compliance for an annual daycare contract of less than $40,000. In December 2001, May 2009, and November 201o the results were the same: "Conclusion: The Agency did not fully comply with federal, state, and local CDA requirements."
Maybe everything here is on the up and up, I just see red flags that don't make sense to me. I'm notifying the HUD Office of Inspector General and the St. Louis Circuit Attorney, hopefully they'll look into this.
— Steve Patterson