The proposed streetcar from St. Louis' central business district (CBD) to the Central West End (CWE) along Olive/Lindell is moving forward. Regular readers know I'm a streetcar advocate because of how it can increase development activity in a way no bus route ever can. I thought I'd take a close look at potential sites along the proposed route, starting with the area nearest my loft.
The block on the north side of Olive between 15th and 16th is nothing but two surface parking lots.
The larger lot with entrance on 15th serves the building the occupies the block to the east. This building contains the administrative offices for the St. Louis Public Library and the Confluence High School. That building contains parking underneath as well as some surface parking within that block. The library owns the building and this surface parking lot.
The surface lot, shown above, doesn't get much use. Once the streetcar line starts running there won't be as much need for automobile parking, hopefully the library can sell the large surface overflow parking lot to a developer for new construction. This is currently subdivided into 4 parcels with addresses 1501 Olive, 1507 Olive, 1509-1529 Olive, and 1527 Olive with a total area of 26,964sf or 0.62 acres. See map.
The west end of the block is a smaller privately-owned public surface parking lot, legally divided into two parcels with addresses 1531-1533 Olive and 1535-1537 Olive. The total area of these two parcels is 11,676sf or 0.27 acres. Combine all six parcels owned by two entities and you have 38,640sf or 0.89 acres.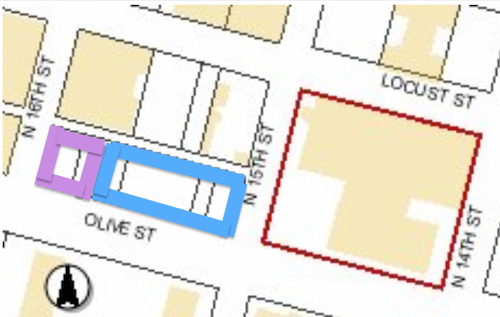 The only structures on this city block are The Campbell House Museum and the 10-story YMCA. The 100 upper floor apartments have been vacant for at least 5 years now, hopefully a streetcar line will get someone interested in taking on the project. Other buildings in the area range from 1-10 floors, but most are greater than 5.
A stop is highly unlikely at 15th because the streetcar line will have a major connection at 14th, but I'd like another stop at 16th or 17th.  Even if the next stop isn't until 18th or 19th I can see this block filled in with apartments and/or condos along with new ground-floor restaurant/retail space.
— Steve Patterson