It has been 15 years since St. Louis-based Venture stores closed.
The chain was founded in 1968 when Target founder John F. Geisse went to work for May Department Stores. Under an antitrust settlement reached with the Department of Justice, May was unable to acquire any more retail chains at the time, and the department store company needed a way to compete against the emerging discount store chains. When May's Executive Vice President Dave Babcock learned that Geisse had resigned from Target Stores, he spoke with Geisse about starting a new discount retailer, resulting in the founding of Venture.

The first Venture store opened in 1970 in the St. Louis suburb of Overland (after Venture closed, the location became a Kmart, which later closed & was demolished for the current Home Depot). In 1976, Geisse retired and left Venture Stores, which had by that time expanded to 20 units. (Wikipedia)
When I was a kid, following the failure of the Woolco discount chain, Venture expanded into Oklahoma City (source). A Woolco/Venture was very close to my parent's house, I biked there often to buy 45s & later cassingles.
Last week, as I stepped into a former Venture store at 5401 Collinsville Rd in Fairmont City, IL, I recalled biking to Venture as a kid and even visiting a Venture after moving to St. Louis.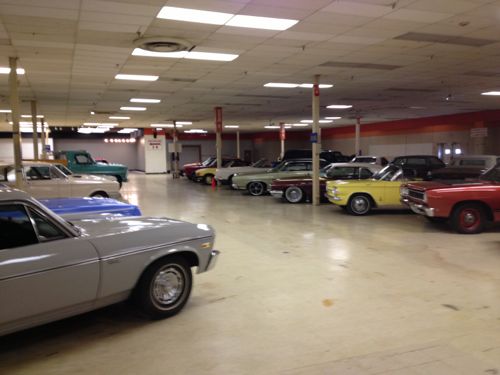 When a building gets built we should assume it'll be around for at least half a century. Often this longevity is a good thing, but not always. I took a picture of the men's restroom but I decided to spare you that sight.
Older structures do provide good low-rent options for businesses, while not making a positive contribution to the area's image. This is a good example of why we need to think beyond the original depreciation schedule when building.
— Steve Patterson