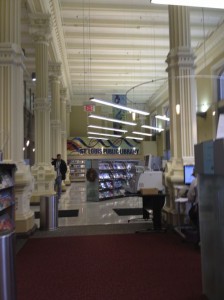 Despite being just four blocks east of the newly renovated Central Library, a majority of readers think the Central Express located in the Old Post Office should remain open:
Q: Should The "Express" Library In The Old Post Office Be Closed?
No, keep it open 58 [54.21%]
Yes, when the existing lease expires 26 [24.3%]
Unsure/no opinion 14 [13.08%]
Yes, immediately 7 [6.54%]
Other: 2 [1.87%]
The two other answers were:
yes, after a new tenant can be found, NLT 1 year
How many patrons use the Express daily? What's it cost to keep it open?
Given the perceived barrier of crossing Tucker I can see an advantage of an express location to server the central business district.
I think the library should compare usage in 2013 to 2012 to see any changes following the reopening of Central.  Once the lease is up I could see the express location moving further east so it is closer to more office workers.
— Steve Patterson