Saint Louis University President Lawrence Biondi and Missouri History Museum President Robert Archibald are both under fire for unrelated reasons.
Archibald:
The museum's purchase of the Delmar land, which was owned by former Mayor Freeman Bosley Jr., has drawn fire for weeks. The Zoo-Museum District board report also lambasts the compensation of the History Museum's president, Robert Archibald, saying his newest contract should be withdrawn and his perks and vacation days re-evaluated. (stltoday.com)

Archibald, head of the museum since 1988, had signed a new three-year contract in July. The board of trustees at that time also agreed to pay him for 410 unused vacation days, due as a lump sum when he retired. Archibald used to receive eight weeks of vacation. He now is entitled to four weeks, but also gets six weeks for "historical researching and writing." (stltoday.com)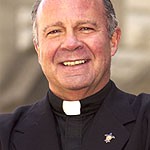 Biondi:
The St. Louis University Faculty Senate on Tuesday voted overwhelmingly against the leadership of the school's president, the Rev. Lawrence Biondi.

The Senate room erupted in applause and cheers when the 51-4 no-confidence vote was announced, following nearly two hours of debate. (stltoday.com)

The Student Government Association at St. Louis University joined the push to oust the university's president late Wednesday.

The student group by a 38-0 vote passed a "no confidence" measure against the leadership of the school's president, the Rev. Lawrence Biondi, and the school's vice president of academic affairs, Manoj Patankar. There was one abstention.

The vote came at the end of a six-hour meeting, student leaders who attended the meeting said. (stltoday.com)
Both men have their supporters and detractors. Will they persevere despite criticism? The poll question this week asks if they should resign, the poll is in the right sidebar.
— Steve Patterson