By the late 1980s many architects & planners began to realize a desire to include exterior retail spaces to enliven new buildings that would otherwise be lifeless at the sidewalk.  They were right, but their early execution left a lot to be desired. Case in point: AT&T's data center from 1990.
The building occupies the entire city block bounded by Chestnut on the south, 9th on the west, Pine on the north and 8th on the east (map). The building, built for Southwestern Bell, was designed to accommodate the planned westbound 8th & Pine MetroLink station that opened a few years later in 1993. Good coordination among different parties at least!
Let's take a walk around so you can see all four sides.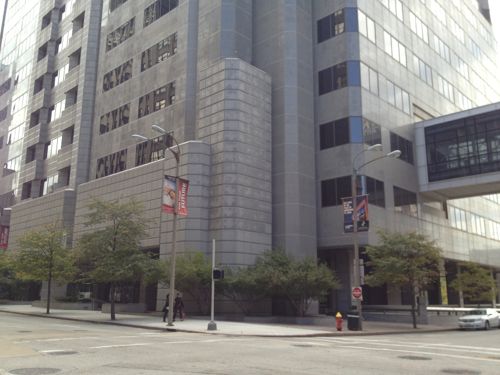 Did you see the three small retail spaces accessible by the general public? You didn't? Only one is occupied, to my knowledge the other two have never had a tenant. The problem is they don't face the sidewalks, they are hidden back in the dark recesses.
The occupied retail space is in the corner of the building pictured above, it just isn't visible from motorists or pedestrians.
The size of the space is appropriate, we do need more spaces like this adjacent to our light rail stations — but with the windows and door facing the transit users coming & going as well as visibility from adjacent sidewalks.  This is not too bad, if you exit the station here you will see the side window and investigate if you are thirsty.
I can just hear people downtown saying retail doesn't work, using these as their examples. That these are still vacant more than two decades later would  have been easy to predict.
— Steve Patterson