Yesterday I posted about the visibility of the DART (Dallas Area Rapid Transit) headquarters and store, today I want to share some other items I liked about their transit service on my short visit last month.
Posted Schedules for bus & train
Knowing when a bus or train will arrive is important information to know. Having this information available at the point where you'd catch the bus or train would be incredible. For many riders of DART they have such information, those of us that use Metro in St. Louis can only fantasize having.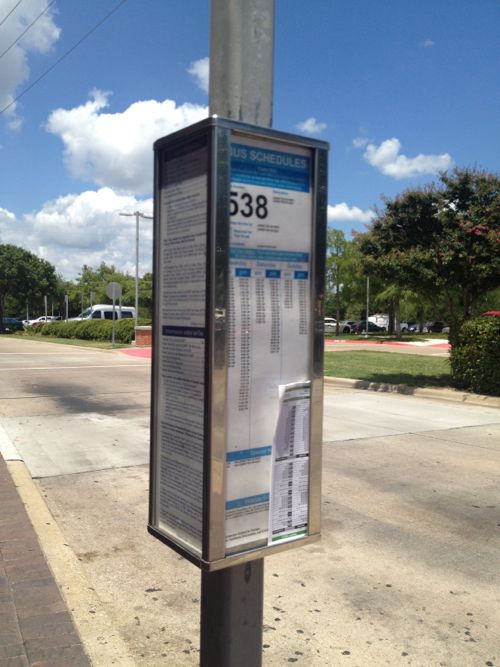 Additional Cars Added to Light Rail
DART increased capacity of their light rail vehicles in a very creative way:
DART is updating its fleet of 115 light rail vehicles (LRV) by inserting a new, low-floor insert between the existing sections of the vehicle adding seating capacity and improving access through level boarding. The newly modified vehicles began service on June 23, 2008 with car #151.

Known as Super Light Rail Vehicles (SLRV) because of the greater length and added passenger capacity, the SLRV will seat approximately 100 passengers compared with 75 on the current vehicles. Standing passengers on the vehicle can nearly double the capacity. (DART)
They've had to modify stations, something we [may] not be able to do.
Bike Rack on Light Rail
Besides the easy boarding for wheelchairs I like the space to hang bikes in the newer low-floor cars. The seating in these is arranged facing inward rather than to the front or back, this gives more floor area and more standing room.
Final Thoughts:
It's good to look to see what's being done in other cities to see what might be good to use at home. I rode several light rail lines and two bus routes in my 30 hours in Dallas, I'd like to return with more time.
The bus vehicles were different than ours but no major surprises. The wheelchair lifts didn't seem as robust as our lifts but I didn't get dropped.
— Steve Patterson