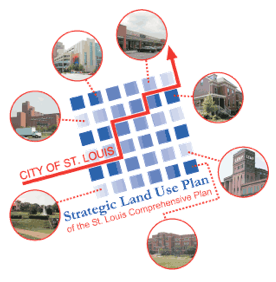 Not surprisingly few picked neutral of positive answers in last week's poll to describe planning in St. Louis.
Q: Which Term Best Describes The St Louis Region Attitude Toward Urban Planning

Fragmented 46 [32.86%]
Lacking 23 [16.43%]
Backwards 19 [13.57%]
Parochial 14 [10%]
Other: 14 [10%]
Dated 11 [7.86%]
Meh 5 [3.57%]
Desperate 3 [2.14%]
Average 3 [2.14%]
Adequate 1 [0.71%]
Progressive 1 [0.71%]
Unsure/No Opnion 0 [0%]
Staid 0 [0%]
Leading 0 [0%]
Appropriate 0 [0%]
Similarly the "other" answers readers used were also mostly negative:
like a Potemkin Village
non-existent
almost non-existent
democratic
Once bitten twice shy
Sluggish – 5-10 years behind
hostile
Insightful and very thorough
opportunistic (for developers, NOT residents)
Uninspired
Anti business
Only used to line the politician's pockets.
The region is much more focused on development than planning
show me the money!
Well-functioning regions don't happen by chance with business and political interests looking out for their own interests. Good planning can look past short interests at the long term big picture.  I'm not optimistic we'll ever find out what that's like in greater St. Louis.
— Steve Patterson