A number of  years ago the East-West Gateway Council of Governments, the MPO (Metropolitan Planning Organization) for the St. Louis region looked at options to get light rail transit to north county and south county, see MetroLink Northside-Southside Study. The final report on October 10, 2008 recommended future routes to North County and South County that included using part of existing roadway. I wasn't convinced.
Last week I posted about things I liked about DART (Dallas Area Rapid Transit) but today I'm going to use DART to talk why I'm cautious about expanding out own light rail system, MetroLink.  Light rail as a mode of transit moves people well, but it doesn't automatically spur development the way a streetcar can and costs far for than a bus line.
Just before I left for my trip to Texas and Oklahoma I received the following publication at a transit-oriented development event here in St. Louis.
Looked exciting, I couldn't wait to see and experience it.  Let's take a look at the reality of light rail in Dallas.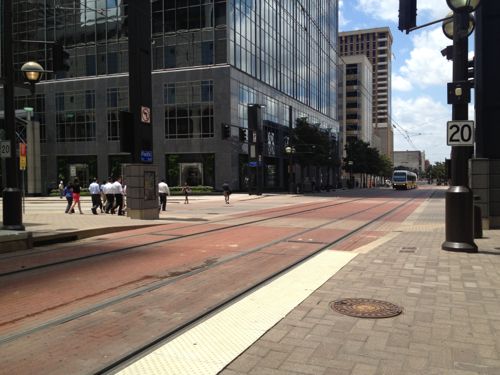 In downtown Dallas numerous light rail lines converge on Pacific Street, now closed to traffic, with exceptions in a few limited spots. It's a pretty lifeless street other than people going to/from the light rail stations. Pedestrian traffic is less than other nearby streets. No sidewalk cafes, not much of anything other than a couple of stations. This is what you get when you give a roadway such a single, and limited, purpose.
On the plus side their light rail is highly visible, whereas our MetroLink is nearly invisible in downtown St. Louis since it runs under Washington Ave and under 8th Street. The planned northside-southside lines in St. Louis would go through downtown at grade and be visible.
DART's blue Line South
n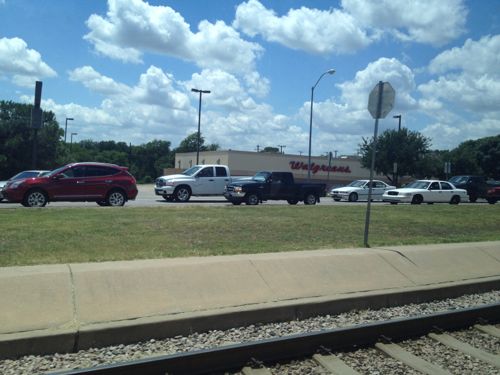 Blue Line North
b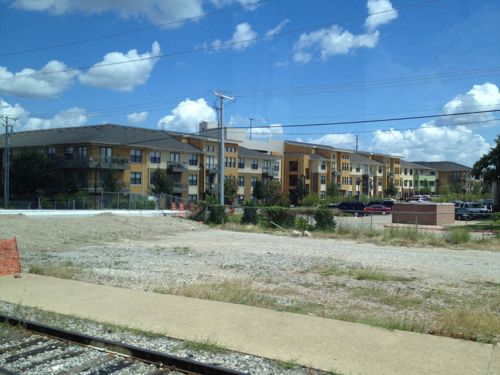 I've got hundreds more images from DART's Blue & Red lines but you get the idea. Relatives and friends in Dallas said they don't use the light rail because it's too inconvenient to use, having to drive to the station and park. They'd just as soon drive to their destination.
Light rail, by design, is separated from its surroundings. It's below grade, elevated above grade, squeezed in the middle of a busy roadway, etc.. But it's not connected to the street grid in the way a streetcar or even a bus is. Thus, many have to drive to reach a station.
Both the streetcar and bus are right outside the door and both make frequent stops so you don't have massive areas without service, like you do with light rail. That said, I can't imagine taking a bus to the airport. Conversely, when I go to the Delmar Loop I take the #97 (Delmar) MetroBus because it's far more convenient.
Back to the northside and southside MetroLink expansion. I'd support rail transit but only in streetcar or BRT form. Light rail costs more to build and as we've seen in St. Louis it hasn't produced measurable development.
St. Louis was developed largely with help from streetcars, horse drawn initially. I expect, no I demand, development to be a result of investment in transit infrastructure.
— Steve Patterson