Many of St. Louis' first historic district regulations were written in the early 1970s, the thinking at the time was we needed to strip away "clutter' such as projecting signs in order to compete with the tidy new suburbs.  Later regulations used the earlier ones as a base so today we have many regulations that are out of sync with our thinking 40 years later. Attitudes and thinking change.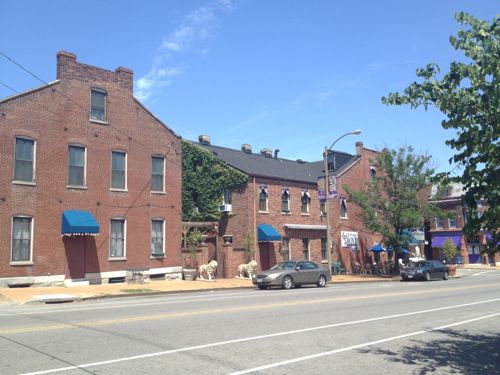 In 1947 the St. Louis Comprehensive Plan called for razing all of the Soulard neighborhood and building a new suburban-style subdivision, complete with cul-de-sac streets!!
Plate Number 16 is a plan for the reconstruction of the Soulard Neighborhood. Some of the more important features of the plan are: the extension of Gravois Avenue from Twelfth Street to the proposed Third Street Interstate Highway, providing a direct route to the central business district; the widening of 18th Street, the widening and extension of 14th Street, the widening of Park and Lafayette Avenues; underground garages in the multi-storied apartment area between 12th and 14th; a neighborhood part of 10 acres or more complete with spray pool, community facilities and game courts; the extension of Lafayette Park to serve this as well as other neighborhoods; landscaped areas throughout the community for passive recreation; enlargement of the City Hospital area; grouping of commercial areas into orderly shopping centers and the complete reconstruction of the neighborhood into super residential blocks with a new street pattern to serve these blocks and to discourage through traffic.

Such a plan would transform an obsolete area into a fine residential neighborhood with a good standard of housing, enlarged open areas, greatly improved environment, small concentrated shop centers, and much needed park and recreation space. The new interstate highway passes diagonally through this neighborhood and could be most advantageously undertaken simultaneously with the reconstruction. This is an area well suited for families of medium incomes. (Obsolete areas)
Just 25 years later Soulard is designated a historic district! Again, those early days of preservation regulations attempted to freeze the natural evolution of buildings, no doubt a reaction to a few decades of pro-demolition thinking. It's possible, I believe, to preserve the historic neighborhood while allowing solar panels but not white vinyl windows with too many dividers between the panes. Yes, it's subjective. In 25 years solar panels can be removed…of course so could inappropriate windows.
Here are the poll results from last week on this topic:
Q: St. Louis denied a solar panel on a visible roof in historic Soulard, thoughts:

Ridiculous, all the air conditioners that are visible in Soulard are equally out of place 46 [39.66%]
Just following the set standards, but they're outdated and need to change 31 [26.72%]
Good, we need to keep historic districts looking nice 12 [10.34%]
Owners of historic buildings are better off buying power from alternate sources rather than clutter up their buildings 11 [9.48%]
Understand the rules before you buy/rent/lease a buildling! 6 [5.17%]
Other: 9 [7.76%]
unsure/no opinion 1 [0.86%]

The "other" answers were:

Why not rent rooftop space from a more practical building (warehouse, box store)
dumb, other cities can add this to the evidence that STL is a dying city.
I guess no one has noticed the potential of energy shortages
Where are the options for letting them install solar panels???
I think it is interesting that this was enforced, but Pevely was demolished…
Creative solutions that maintains the historic facade but allows modernization.
It's not rediculous, but well designed/installed panels should be allowed.
is there a compromise such solar panels in the shape of tiles?
Understand the rules before you buy/rent/lease a buildling!
Just like ordinances, these historic district standards need to be reviewed and updated on s regular basis. Monday the Preservation Board granted a variance to allow solar panels at Bastille.
— Steve Patterson