Two downtown streets are more like alleys than streets: Lucas Ave & St. Charles St. Both are parallel to Washington Ave with St. Charles St. to the south and Lucas Ave to the north. I'm sure when early founders laid out the street grid these two had buildings facing them. in the 18th & 19th centuries.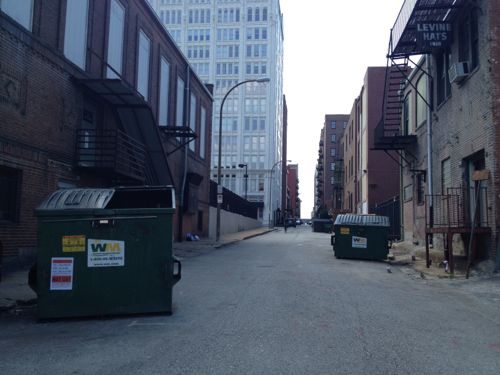 In many places these two have been closed entirely as large buildings were built on the right-of-way after the city vacated it. Examples include the convention center and the former St. Louis Centre indoor mall. In recent years some lofts have entrances facing these two, such as Railway Lofts facing Lucas Ave and 10th Street Lofts facing St. Charles St. These are the exception though, not the rule. St. Charles St. runs along the back of my building, our recycling dumpsters are there as is the entrance to our parking garage.
These need to stay as named streets because of the few places with entrances facing them but we shouldn't encourage more facing them. In very dense cities you'll see such streets as active places but we aren't anywhere dense enough to make these safe to walk down at night. They also lack sidewalks so making entrances accessible is a challenge.
They've got proper names but they're best viewed like they have been for over a century — as alleys.
– Steve Patterson