Twitter & Facebook were buzzing last Friday over a couple of blog posts that an urban Fiat dealership was to open in downtown St. Louis at 1015 Locust — less than six blocks from my loft. Just before I hit share my internal skeptic kicked and said: "Really?"
"Count On Downtown has confirmed with the broker of the 1015 Locust building that Fiat is planning a dealership, a Fiat Studio in Fiat lingo, on this corner of 11th & Locust. Note: Nothing is final yet. If everything works out, including permits from the city, Fiat Studio is expected to open in March 2012." (Count on Downtown: Fiat Coming to Downtown St. Louis)

"Fiat will soon announce a move into 1015 Locust Street in downtown St. Louis. As the car dealer as reentered the American market in partnership with Chrysler, Fiat is looking to place Fiat dealerships in about 165 locations, concentrating on urban areas that have a high number of registered small cars. 1015 carries a modernist skin on a 1921 building and while the original was surely beautiful, Fiat seems to think its modern look is a good fit for the brand." (nextSTL: Fiat "Studio" to Open in Downtown St. Louis)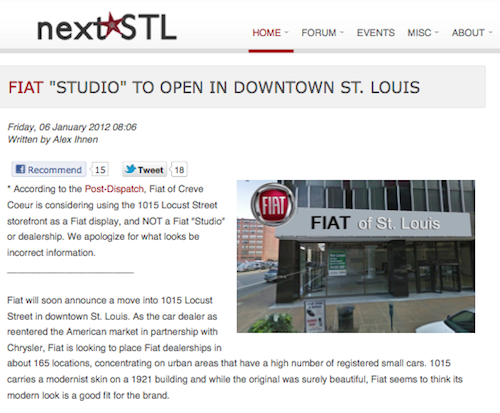 As you can see the post was very popular on both Facebook & Twitter.
The street level retail space at 1015 Locust was created a few years ago by sectioning off part of the lobby. It's a tiny retail storefront. Urban dealerships still need offices, parts departments, service bays and inventory storage. In places like Manhattan these are done vertically because the cost of land makes it cost prohibitive to do a typical suburban dealership. The idea of an auto dealership in 1015 Locust is laughable. But it got traction because  we want to believe such positive stories.

The real story is the potential creative use to fill a vacant storefront space:
Bryan Hughes, sales manager for Fiat of Creve Coeur, said today the dealership is considering use of the corner street-level space at 1015 Locust Street downtown. Hughes said the spot would not be a dealership but would serve as a Fiat "display case" like those dealers sometimes set up inside shopping malls. (STLtoday.com)
Now that's a good story! But, it's kind of a let down compared to a full dealership. It's the story these blogs should have run rather than suggest we are getting an urban dealership like in Manhattan.
My love affair with the Fiat 500 began after I realized the shortcomings of the smart fortwo.
I attended the 2011 St. Louis Auto Show a year ago so I could see one in person but none were there. Finally in June I drove out to the Fiat of Creve Coeur on Lindbergh to see them up close. Ignoring the fact I drive 3,000 miles locally per year and have no money for a different vehicle, the Fiat 500 is perfect for me. Â I've even picked out the color I'd like:Â Grigio (gray). I need to buy a lottery ticket every so often because that's the only way I'll be able to have one. Â Sales so far haven't been that hot so buying a used one wouldn't be easy.
J-Lo may have shamelessly plugged the 500 on awards show, but all the glitz and glamour couldn't obscure the painful truth. Fiat sales of just under 20,000 in 2011 were not even half the annual goal of 50,000. It'll improve in 2012, but Fiat has a long ways to go in re-establishing itself in the U.S. (CNBC)
Thursday I will post about the last auto dealership that existed in downtown St. Louis.
– Steve Patterson