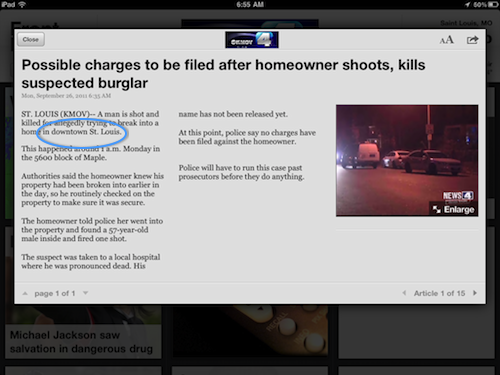 It seems the local media has no clue where downtown is, or isn't. Or they just think it's much much larger than it actually is. A story from this morning:
"ST. LOUIS (KMOV)– A man is shot and killed for allegedly trying to break into a home in downtown St. Louis.

This happened around 1 a.m. Monday in the 5600 block of Maple."
Really? 5600 block of Maple in downtown St. Louis? Reporter Robin Smith correctly says north St.Louis in the video report but the online report said downtown (corrected following my tweet). Google Maps shows the distance from KMOV's downtown studios as a 21 minute, 6.5 mile drive. Downtown? Past Saint Louis University, past Grand Center, past the Central West End — nearly to Page & Goodfellow. Â Downtown huh?
Who types this stuff? Do they have editors? Are they all from Chesterfield or further where the view is the city limits is synonymous with downtown? I don't care what the excuse is,I want them to get their stories correct. It's no wonder I meet people who are afraid to come downtown — all they here is every bad thing that happens in the City of St. Louis is in "downtown."
– Steve Patterson