Thousands will gather in downtown St. Louis for the annual Komen Race for the Cure. Thousands means thousands of cars. Â Public transit is an option for those coming to walk, run, volunteer or just watch.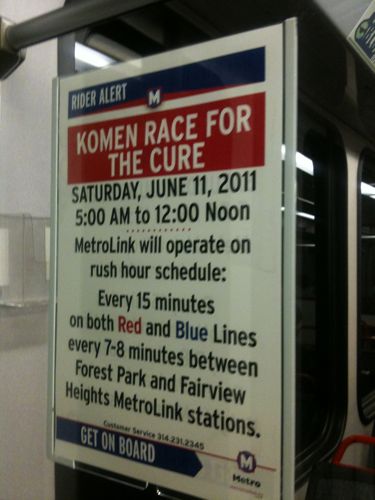 First the good news, Metro is operating MetroLink light rail trains on a rush schedule, from the alert:
Komen Race For the Cure Special Service- June 11, 2011

DETAILS

On Saturday, June 11 from 5 a.m. until noon, MetroLink will operate:

Every 15 minutes on both Red and Blue Lines

Every 7-8 minutes between the Forest Park and Fairview Heights MetroLink stations
And now the bad news, because 14th Street, Market and Olive are closed during the event nine (9) buses will be rerouted:
Hopefully those who ride these buses to get to work are aware of these reroutes.
If you are coming to the event please consider taking a MetroBus or MetroLink. Â Those coming from Illinois should definitely consider taking transit:
I-64 Weekend Closures:

MODOT will close all lanes of westbound I-64 from the Poplar Street Bridge to 20th Street beginning 8 am Saturday, June 10 for bridge repairs. The closure will end at noon Sunday, June 11.

Komen Race for the Cure Participants should be aware of several closures that could impact getting to the event:
• On Saturday, from 5 am to 2 pm for the Komen Race, the following ramps will be closed: the eastbound I-64 exit ramp to Market Street/Bernard and the exit ramp to 20th Street and Chestnut and the westbound I-64 exit ramps to 21st Street and Market, and the exit ramp to the 3000 block of Market. (source)
Have a great weekend!
– Steve Patterson