Twenty Ten years ago today famed urban planner Harland Bartholomew died.  From his NY Times Obituary, Harland Bartholomew, 100, Dean of City Planners:
Harland Bartholomew, the dean of comprehensive city planning in the United States, died Saturday at his home in Clayton, Mo., a suburb of St. Louis. He was 100 years old.

Mr. Bartholomew, a consulting engineer, was appointed to Federal planning committees by three Presidents, Herbert Hoover, Franklin D. Roosevelt and Dwight D. Eisenhower.

In 1941 President Roosevelt appointed Mr. Bartholomew to a committee to recommend a limited system of national highways. He also helped plan the Metro subway system in Washington, and he represented the Rockefeller interests in the restoration of historic Williamsburg, Va.

President Eisenhower appointed Mr. Bartholomew chairman of the National Capital Planning Commission a position he held for seven years, A City Planner in Newark Mr. Bartholomew became the nation's first full-time city planner in 1914, when he went to work for the city of Newark. Two years later he went to St. Louis as a city engineer, and he later opened a consulting firm, Harland Bartholomew & Associates, which now has its headquarters in Memphis. He retired in 1965. His firm prepared comprehensive plans for more than 500 cities and counties, including Bal Horbour, Fla., St. Croix, V.I., and Grand Bahama Island in the Bahamas. Mr. Bartholomew also prepared plans for the reconstruction of the resort community of Bar Harbor, Me., after two-thirds of it was destroyed by a forest fire in 1947.

His firm also assisted in the preparation of many zoning ordinances. including a statewide ordinance for Hawaii.

He was an early advocate of slum clearance and city planning, and served on the national Slum Clearance Advisory Committee. His ideas helped shape the Housing Act of 1937 and the Housing Act of 1949.
There is no doubting Bartholomew's influence on both cities and the profession of urban planning. His considerable influence is why he had such a negative impact on cities. We are still dealing with problems created by his solutions to early 20th century problems.
In 1919 he founded Harland Bartholomew & Associates here in St. Louis. For decades the firm operated from offices in the Louderman Building at 11th & Locust (map). From 1916-1950 he was St. Louis' planner.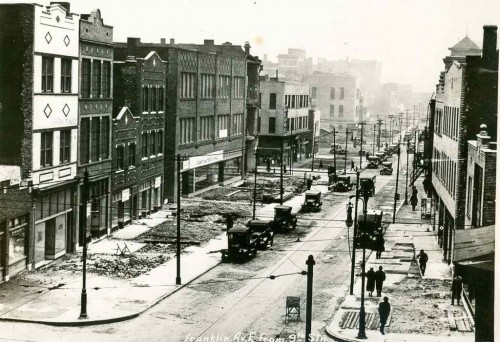 Early writings showed he was concerned about suburban expansion — in the 1920s. He advocated widening streets to accommodate the automobile. In the above image the right-of-way of Franklin Ave from 3rd to 9th is getting widened from 50 feet to 80 feet – a 60% increase! Widened streets and numerous parking lots/garages made the decision to buy a car and move to a house beyond the streetcar line was a no brainier for many.
Soon the widened streets weren't enough so highways were the next step. Each time steps were taken to make motoring life easier the further people moved from the core. Eventually families needed to have two cars. As a country we would have embraced the automobile anyway but he made it easier and faster. Highways cutting through cities also did much damage.
Bartholomew was a major pusher of Euclidean zoning — the rigid segregation of land uses. Overcoming this segregated view of cities today is a challenge. I've spent time in the basement of the Washington University archives library reading through comprehensive plans HBA prepared for hundreds of U.S. cities. Each one a repeat of the prior: widen streets, build a highway loop around downtown, build parking, require high parking standards for new construction, make the zoning even stricter.
Harland Bartholomew left his position with the City of St. Louis in 1950 and after 42 years, in 1961, he retired from the firm that bore his name. I can't help but think our cities would be better off in the 21st century if this man born in the 19th century had become an accountant. I take some pleasure knowing the building where his office was located currently includes a mix of retail, office and residential uses.
– Steve Patterson