A year ago today the ribbon was cut on the Gateway Transportation Center in downtown St. Louis (view post).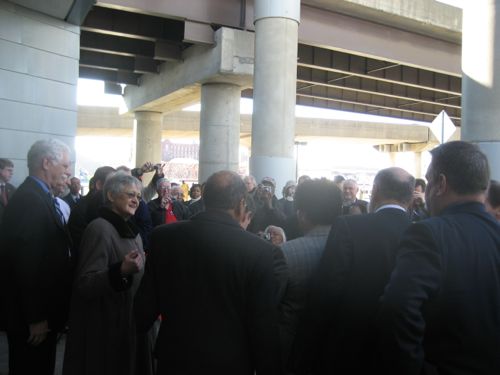 This station includes both Greyhound bus and Amtrak train and is adjacent to a MetroLink light rail station and a regional bus hub  (map link).  It is a transportation mecca.  Someone can use Greyhound to get to St. Louis where they can take MetroLink to the airport or Amtrak to Chicago.  Or just stay in St. Louis using the light rail or bus service to explore the city and some of the region.
The interior is no Union Station but it also is a huge improvement over the "temporary" shacks that were used for 20 some years.
Security is better than other train & bus stations I've seen — only ticketed passengers can get to the train platform or the bus loading area.  I've yet to take a train or bus in/out of this new station.  I had used both the old stations.
Monday of this week a new long-term parking lot opened up. From the press release:
The secure 42-space parking area is paved, fenced, well-lit and monitored by security cameras. It is fully automated, only accepts credit or debit cards and offers the attractive rate is $6 for up to 24 hours and $6 for each succeeding 24-hour period.


For the 12 months ending September 30, 2009, Amtrak St. Louis ridership reached 278,778, an increase of nearly 2.5 percent (6,781 passengers) from the previous year.
If you have used the new station for bus or train service please share your thoughts below.
– Steve Patterson