Five years ago today the normally quiet Lafayette Square neighborhood was rocked by a massive explosion at the Praxair industrial gas facility on Chouteau:
ST. LOUIS – A blaze at an industrial plant sent huge fireballs shooting into the sky Friday afternoon, casting a towering cloud of black smoke over the area as traffic backed up and nearby residents evacuated their homes.

There were no injuries, St. Louis Fire Chief Sherman George said. There also was no word on the cause of the rapid-fire series of spectacular explosions at Praxair Distribution, which processes propane and other gases for industrial use.  (Source)
Video from a nearby resident:
Today the building and site remain vacant.  The 4 acre site, located at 2210 Chouteau, is listed for $2,250,000.
Nearby residents started Praxair Watch to oppose the reopening of the facility.
The 2.105 acre site to the east is listed for $750,000.  Between the two sites is a former street, Mackay Place: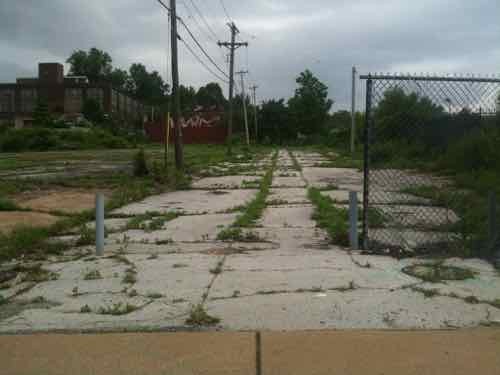 This former street is owned by the same limited liability corporation that owns the site to the east.
The Praxair explosion was featured on an episode of the History Channel's Modern Marvels as an "engineering disaster."
– Steve Patterson