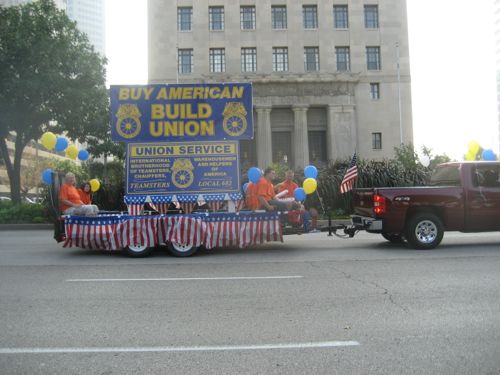 Even though my parents were both blue collar workers they both were anti-union. In 1979 General Motors opened a new plant in Oklahoma City to build the new X-Body cars (Chevy Citation). Briefly my father considered trying to get a job there, but he didn't want to be forced to join a union.
Then why did he even consider applying?  Simple: union wages, hours, benefits, etc. My dad remained a self-employed carpenter the rest of his life. Growing up in their house I too was anti-union but moving to St. Louis at age 23 allowed me to learn about the history & importance of organized labor…including the long-standing resistance from some business interests.
I do think 'right to work' could bring more jobs to Missouri — more low-paying jobs.
One scene from an old episode of Roseanne sums up the issue:
We will see action on the subject quickly.
According to St. Louis Public Radio political reporter Jo Mannies, the question is not if 'right to work' will become a reality in Missouri but how quickly and how big?

Missouri's General Assembly will convene in early January, and Mannies said this issue is probably one of the first they'll take up as a "show of strength" and "to unify the Republican base and bring Greitens into the fold." Mannies expects that right-to-work will be a decided reality in Missouri by early February 2017.

"The only question is how expansive it will be," Mannies said. "In some states, police and fire are exempted because Republicans have always been trying to reach out to police and fire groups and they don't want to tick them off. Some of the bills that are introduced may be blanket, including every union or association. Other bills might just do private sector. Some may do everything but police and fire. Some may be police, fire and teachers." [St. Louis Public Radio]
Good question, will this apple to every union or will some be exempted? My guess is more conservative-leaning unions like police unions will be exempted.
Based on the non-scientific Sunday Poll, I'm preaching to the choir:
Q: Agree or disagree: A right-to-work law will bring more jobs & higher wages to Missouri.
Strongly agree 5 [9.09%]
Agree 2 [3.64%]
Somewhat agree 1 [1.82%]
Neither agree or disagree 2 [3.64%]
Somewhat disagree 0 [0%]
Disagree 14 [25.45%]
Strongly disagree 29 [52.73%]
Unsure/No Answer 2 [3.64%]
Missouri is about to get very red.
— Steve Patterson