The recent non-scientific Sunday Poll was to see where readers get their groceries. No surprise, large supermarkets was the top answer.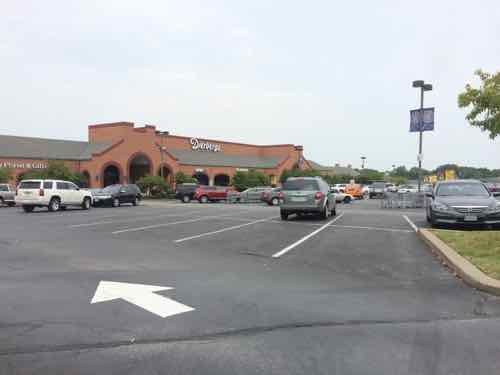 Here are the results:
Q: What are the three types of places where you get most of your food? Purchased in store or delivered.
Full-service large supermarket (Dierbergs, Schnucks, Whole Foods): 21 [29.58%]
Discount Grocery Chain (ALDI, Ruler, etc): 11 [15.49%]
Medium Grocery (Culinaria, Straub's, Trader Joe's, Fields Foods, Lucky's, Fresh Thyme, etc.): 10 [14.08%]
Big Box (Target, Walmart, etc): 9 [12.68%]
Warehouse (Costco, Sam's): 7 [9.86%]
Farmers' market (Soulard, Tower Grove, etc): 6 [8.45%]
TIE: 2 [2.82%]

Mail order (Amazon, meal kits, etc)
N/A – I eat out

TIE: : 1 [1.41%]

Convenience store (7-11, QT, etc)
Local/small grocer (Local Harvest Grocery , Vincents, etc.
Other: Grow it

TIE: 0 [0%]

Drug Store (CVS, Walgreens)
Food Pantry
Food Co-op
International grocer (Jay's, etc)
What's interesting to me is the rise of ALDI. Last week I noted the new ALDI at Gravois Plaza, replacing the South Grand location, was my new favorite grocery store in the city.
Aldi has more than 1,800 stores in 35 states and is focused on growing in the Midwest, the Mid-Atlantic, Florida and California. It's on track to become America's third largest supermarket chain behind Walmart and Kroger, with 2,500 stores by the end of 2022. Its close competitor Lidl, another German grocer with a similar low-cost business model, is racing to grow in the United States, too. (CNN)
I've been hearing about the other German grocery chain mention above, Lidl. In 2017 they planned to open their first 100 stores in America, starting on the East coast.  But they had problems and didn't reach their goal.  It may be some time before they reach St. Louis, if at all.
The grocery business operates on very slim profit margins and competition in most of the region is fierce. Other parts of St. Louis are food deserts.
"There's a cultural aspect to food," said Tosha Phonix, food justice organizer for the Missouri Coalition for the Environment. "People don't know how to cook."

Studies back up those claims. One, from 2015, found putting government-subsidized grocery stores in low-access neighborhoods did little to change people's diets. Another, from the National Bureau for Economic Research, found education and income levels were much more indicative of people's food behaviors than proximity to a supermarket.

Community-led solutions and education are key to making people healthier, Phonix said.

"The grocery stores aren't coming back," she said. Alternative models of stores, such as farmers markets and co-ops, can assure investment stays within a neighborhood, she said.

"If you own what is in your community, no one can say, 'Hey, I don't want to be here' and move out. It will be the community's. The community will benefit from it, and it will go back into the communities." (St. Louis Public Radio)
It'll be interesting to watch as change continues in the grocery space over the coming years.
— Steve Patterson