I agree with the majority of the voters in last week's poll, a mixed-use building would be better than a park in Laclede's Landing!
Q: Great Rivers Greenway Bought Laclede's Landing Property, Plans Park. Thoughts?
A mixed-use building would be better 53 [51.96%]
A park is a good idea 21 [20.59%]
A residential building would be better 15 [14.71%]
A Taco Bell with drive-thru would be better 4 [3.92%]
Other: 4 [3.92%]

greenway along the river
"Other Compatable Development" appears to leave much open to consideration.
Park? Restrooms? Sounds like a great place for the homeless!
It's a nasty dirty area

Unsure/No Answer 3 [2.94%]
A parking garage would be better 2 [1.96%]
Laclede's Landing is barely a place anymore, with so many holes in the formerly urban fabric. Between grassy blocks are harsh surface parking lots, it's clear there needs to be a plan to infill some of these holes with new construction. It make take 20 years to happen, but the planning needs to happen now.
With such a tiny amount of land between the King & Eads bridges I think every bit should get filled in. Knowing that isn't likely, the land closer to the south should be filled in while land to the north isn't as critical to completing streetscapes and urban vistas.
But if Great Rivers Greenway goes ahead with this park next to the Eads Bridge, what should we call it? Eads Transit Park?
A tiny park next to a massive park that is growing in size by the size of the Arch parking garage and the width of Washington Ave is a huge mistake! This land is an opportunity to add much-needed building mass, people, activity, etc right next to a light rail station. Great Rivers Greenway can't get into the development business but I'd think they could buy and hold for a developer. If they really have the urge to green up Laclede's Landing they could unlock Metro's Eads Transit Park and/or do something with the mess under the King Bridge.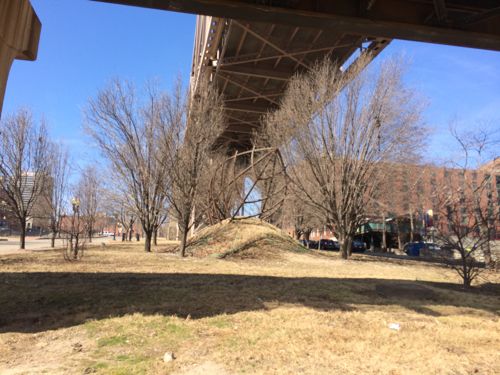 Hopefully Great Rivers Greenway will reconsider, so the land adjacent to the Eads Bridge might someday see new constriction. Maybe a demonstration is needed to convince them?
— Steve Patterson