The project to replace the old Tucker Blvd, filling in the long-abandoned passenger rail tunnel, is nearing completion. Motorists and pedestrians can now travel between Washington Ave and Cass Ave., approximately 3/4 of a mile (map).  Tuesday night the boyfriend and I went for a walk up to Cass and back (I rolled, he walked).
I'd been up/down the new Tucker a few times before but this time I paid attention to the plantings located in bulb-outs at the ends of parking lanes, medians, tree lawn, etc.   Some of the bulb-outs are designed as a rain garden, set up to catch rainwater from the road and sidewalk.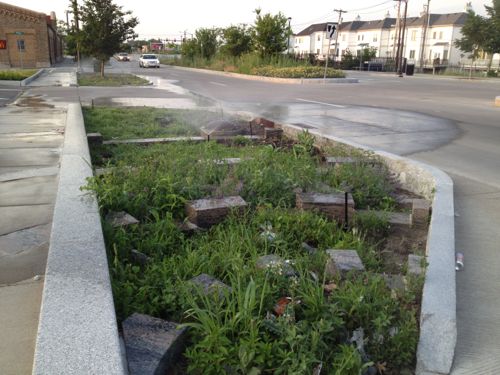 I'm excited to see Tucker 100% complete with all the planting areas weeded. I'm also looking forward to seeing development occur along Tucker, especially at Cass.
Since this area lacks a form-based code, or anything else requiring new construction to recognize the existence of the new public sidewalks, I'm afraid it'll end up being geared only to motorists, ignoring pedestrians completely.   Maybe Paul McKee will do the.. right thing and develop the area with pedestrians and motorists in mind…
— Steve Patterson