Earlier this month a city in Northern California has done what other municipalities should do: ban the construction of new gas stations.
The city of Petaluma has become the first in the nation to ban the construction of new gas stations in the city, as part of its aggressive goal to reach carbon neutrality by 2030.

On Monday night, the city council unanimously approved the measure with a second reading of the ordinance, effectively adopting the ban immediately.

The ordinance was widely embraced, as the city council said it faced no opposition.

In a city of some 60,000 residents, covering 14.5 square miles, Petaluma currently has 16 gas stations with another previously approved filling station on the way.  (Source)
It's foolish to keep devoting more and more land & money into a business model that's in decline. As vehicles have gotten more efficient gasoline sales have been in decline, as electric vehicles begin to  flood the market gasoline sales will continue falling off. One estimate is 60%-80% of existing gas stations could close by 2035.
Petaluma California is similar in land area & population to the St. Louis suburb of Florissant. By my count Florissant also has 17 gas stations.
Our region has food deserts, but not gas station deserts. Gas stations, mostly large convenience stores that also sell fuel, are everywhere. Former gas stations, vacant & repurposed, are also everywhere.
These will not be repurposed later into EV charging stations as EVs are recharged overnight, at home. Yes, eventually EV batteries will be able to be charged significantly faster, but by then cars will either be owned by ride share companies or it can go off on it's own and park on a charging pad while you work.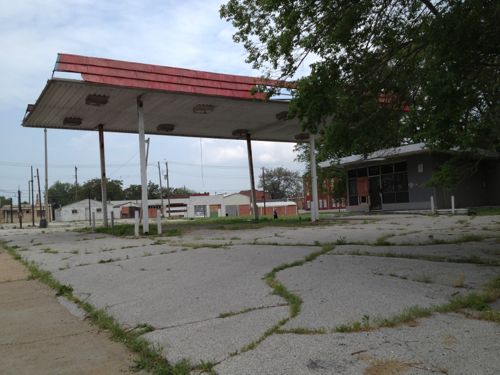 Gas stations are a blight, a big hole in the urban fabric. They're anti-pedestrian. These should no longer be built in the city, county, or region. A big part of why Petaluma banned new gas stations is a grassroots organization called Coalition Opposing New Gas Stations — we need a similar effort here.
— Steve Patterson