A year ago Metro announced that a new color scheme was being phased in.
You will continue to see the red-white-and-blue trains and buses for a long time. There are currently three MetroLink trains featuring the new look, as well as 26 new MetroBus vehicles. These new 30-foot Gillig buses have improved emissions and a much smaller turning radius than other buses in the fleet, making them more flexible in the types of service they can provide and in the locations where they can better operate.

The new paint scheme will only be applied to new vehicles being added to the Metro fleet as they replace older trains, buses and vans that are being retired out of service. All of these updates are part of the normal maintenance and replacement cycle for transit vehicles, signs and materials, and no additional funds are being used or needed to make these changes.
It took a while but I think most vehicles have now received the new design. Train vehicles haven't actually been replaced, but individual cars gets updated and the livery changes from the standard to advertising, etc. Buses also get a change of livery based on advertising wraps.
MetroLink trains & buses have been white for decades.
I've been here 30 years and I couldn't think of a different color scheme, but a friend reminded me prior to the 2003 Bi-State to Metro change to blue & red on white they had a red/orange/yellow scheme.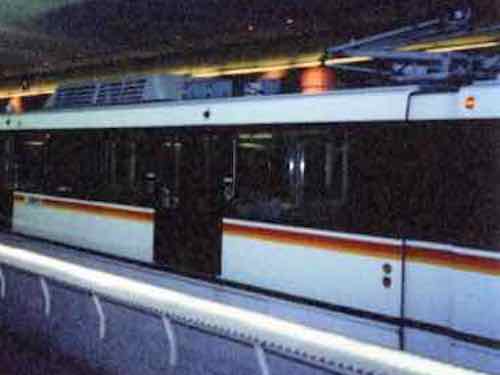 I personally love the new design. The bold blue design stands out, at least for now. In time it'll get old and tired. It's refreshing to no longer have the white background. I've seen the new blue design on buses, but haven't gotten a photo yet.
— Steve Patterson