Way back in January I saw a news story that interested me, but it was too cold out — eight new information kiosks had gone online.
The vertical touch screen information centers provide visitors and residents with information on restaurants and attractions as well as local resources and services.

Kyle Sparks was visiting from Cincinnati and used a kiosk a the corner of 4th and Chestnut.

 "I've only been to St. Louis a couple of times and I was just kind of moseying around trying to find out what I could find and these make it really easy," he said. 

The kiosks are part of the city's Smart City initiative and have been in the works for two years. The information centers are being paid for without any tax dollars.

"There is no investment from the city or taxpayers to pull this thing off. It's entirely funded through sponsorships and advertising opportunities," said Jacob Long, spokesman for Mayor Lyda Krewson. (KMOV)
I saw a couple white driving home from trips to a store. In late April it was warm enough for me to check them out. However, health and other posts prevented me from writing about them…until now.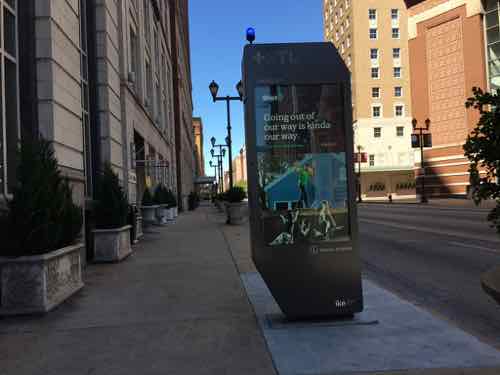 Here's what the manufacturer says about the hardware & software:
Designed in concert with Pentagram and built to the proprietary specifications of our platform, every IKE guarantees the best in quality and will complement the aesthetics of any city.

Instead of being relegated to a secondary position on a tablet, the large 65" screens located on both sides of the kiosk are prominent, visually impactful and encourage frequent pedestrian interaction.

IKE is built on an open, multi-lingual data platform that provides maximum flexibility and integration with city data sources. Our software is developed in an agile process, with city partners joining us at the table to develop new ideas and applications.

Our in-house Software Engineering team has full-stack expertise, including infrastructure, scalable backend systems and user interfaces. This allows for the continuous evolution and innovation of our platform and gives our team the ability to customize IKE software to meet the needs of any city. (IKE Smart City)
Let's take a look.
I've yet to see anyone using an IKE, but downtown has been deserted because of the pandemic. They definitely get your attention, even as a motorist, especially as a pedestrian.
We'll see how it goes. I need keep carrying hand sanitizer with me so I can keep testing them.
— Steve Patterson