It was 15 years ago today that the Malcolm W. Martin Memorial Park was formally dedicated.
The park is dedicated to the man who pushed for the creation of the Gateway Geyser more than 25 years ago:
The tallest water fountain in the United States and third tallest in the world, capable of rising to 630 feet, the Gateway Geyser began operating on May 27, 1995, helping to fulfill Malcolm W. Martin's vision of creating a landmark along the Illinois riverfront that would complement the Gateway Arch. The Gateway Geyser was established with the help of the Gateway Center of Metropolitan St. Louis, a non-profit group founded by Malcolm, whose members raised $4 million in private donations to construct the geyser. (The park with a view)
It used to operate multiple times per day, but now only at noon — weather permitting, of course. The equipment is aging.
The Gateway Geyser is typically accompanied by four smaller fountains around the perimeter of the pond. These fountains are not expected to come back online until the 2020 season. Why? The pump is being rebuilt. This repair does not affect the operation of the Gateway Geyser. Sorry for any inconvenience.
This park is one of my favorite spaces in the the region, a reason why my husband and I got married here just over 6 years ago this month.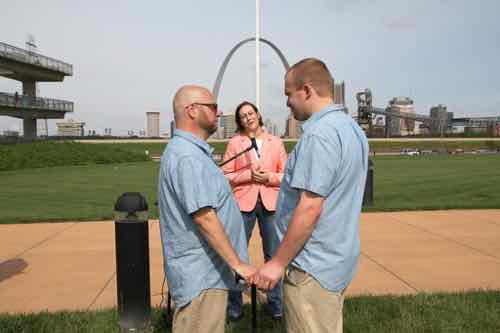 Another reason we picked this park, located in East St. Louis Illinois, for our wedding is we still couldn't legally get married in Missouri — but Missouri is in all our photos anyway!
Now that wheelchair access to the west end of the Eads Bridge has been fixed, I can visit this park more often.
— Steve Patterson