When I was a kid washing the car often meant getting the garden house out and washing the car on our driveway. Or it meant going to the self-serve car wash with individual stalls. You get your bills changed to quarters and when it's your turn you'd pull into the stall and wash your car. Fancy ones had a soapy brush option. Often I'd get wet from splash back from the high pressure sprayer.
I was aware of other car washes, from songs like Jim Croce's Car Wash Blues and Rose Royce's Car Wash.  Gas stations began to add automatic car washes to entice more people to stop and buy gas — the wash was often cheaper with purchase of fuel.
Large size dedicated automatic car washes aren't new, but slowly they've replaced the manual DIY car washes I remember as a kid. For years I'd go to the Waterway car wash that was at Forest Park & Vandeventer — now The Standard apartments. I was glad to see this large site be redeveloped with a 5-story apartment building.
Lately it seems throughout South City and in much of St. Louis County a new breed of automatic car washes are popping up frequently. As my husband handles the car maintenance, I'd not been to a car wash in at least seven years.  That recently changed when we were running errands and decided to stop at a newer car wash on Kingshighway, which replaced a former QuikTrip gas station.
My husband had been to this and other car washes many times, but it was a first for me. I was driving so I had to use the touch screen to purchase the wash we wanted. We drove up to the wash and handed the attendant our receipt, he warned us Hyundai shark fin radio/navigation antennas have come off before.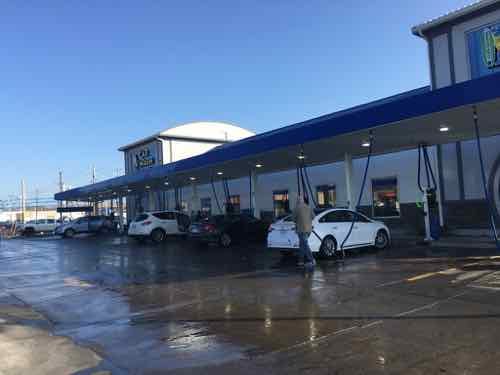 After the wash we stopped at the "free" vacuum area. Free vacuum?!? The site plan is such that you must go through the paid wash to reach the vacuum area.  This saves needing a stack of quarters to vacuum out the interior. I can't tell you how many times in the past my vacuum time has run out before I was finished.
The urbanist in me is aghast at the trend for all these new large car washes, although this stretch of Kingshighway and most suburban arterials are so far from being pleasant pedestrian environments. Still, if there's an expectation for these corridors to improve then such designs shouldn't be permitted up against the public sidewalk.
Suburbs Rock Hill and Crestwood each rejected another automatic car wash in their municipalities, in 2018 & 2019, respectively.
— Steve Patterson
b
b