A slim majority (52,75%) of those who voted in Sunday's poll agree with St. Louis Magazine's Chris Naffziger that the intersection of Grand Blvd & Forest Park Ave — continuing East to Market/I-64 — should be replaced:
The solution to the morass of broken asphalt, crumbling overpasses and roaring traffic requires St. Louis to look to the past design of the neighborhood. I am not claiming that every aspect of St. Louis's past is worth emulating, but I do know that the built environment was much more equitable for pedestrians. The interstate-like entrance ramps from Forest Park Avenue to Highway 40 should be replaced, removing the huge swaths of dead space, and allowing for a safer pedestrian environment. I feel bad for the residents of the Council Plaza apartment buildings; most are elderly, and they are forced to cross wide streets, with speeding cars threatening them, and sidewalks that are shattered to pieces from wear and tear. Redesigning this area is more than just reviving historic urban planning; it is about providing an equitable built environment for all people, pedestrian and motorist, young and old. (St. Louis Magazine)
I agree. Over six years ago I talked about this area in the context of the then Del Taco "flying saucer" at Grand & Forest Park. In that post I included a 1958 aerial image I'd purchased from HistoricAerials.com. In 1958 Forest Park Ave ended at Grand on the East — the land was being cleared to connect it to Market Street. The Danial Boone Expressway, later highway 40/I-64. hadn't been built this far East yet either.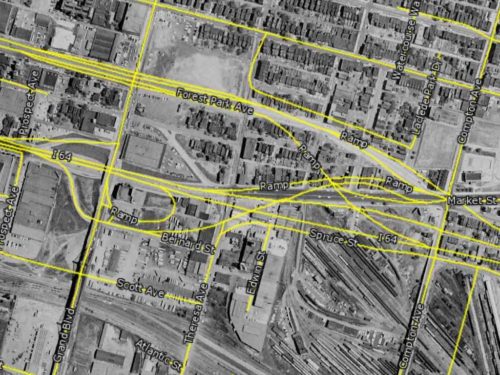 The tight street grid has been repeatedly screwed up over the years…in the name of progress. Meanwhile, the population has continued to drop. Decades ago St. Louisans willfully followed Harland Bartholomew as he forcefully reshaped the city, and by extension, the region. into an auto-centric mess at the expense of the pedestrian, cyclist, and transit user.
The area around Grand Blvd & Forest Park Ave has been decimated on purpose. Crime rose as a result. Saint Louis University made matters worse by fencing the campus off from the city.
If St. Louis wants to recover it must remake itself for humans — not just those driving.
b
Q: Agree or disagree: St. Louis should replace Forest Park Ave going under Grand Blvd with a conventional at-grade intersection.
Strongly agree 15 [37.5%]
Agree [10 25%]
Somewhat agree 2 [5%]
Neither agree or disagree 2 [5%]
Somewhat disagree 2 [5%]
Disagree 4 [10%]
Strongly disagree 5 [12.5%]
Unsure/No Answer 0 [0%]
b
b
I don't think the city/region has the political will to reverse Bartholomew's lasting legacy.
— Steve Patterson