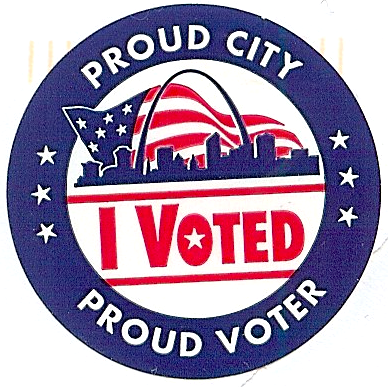 St. Louis resists change, and with a few notable exceptions, the status quo was affirmed in Tuesday's primary election. It'll get rubber stamped in the formality known as the April 4th general election.
Despite St. Louis being overwhelmingly Democratic, we hold partisan primaries followed a month later by a general election that's a complete farce. Why? Because voters wouldn't know how to vote otherwise…or so I've been told. None of the people I voted for won, however, if I were a gambler I could have easily predicted the winners in most races.
MAYOR:
I like Lyda Krewson personally. She was the only mayoral candidate to ask me for my vote. A few days before the election I saw her at an event and she asked it I had endorsed anyone. "No", I said. Krewson asked if she'd get my vote Tuesday, but I told her I already voted absentee. Her next question is obvious, did I vote for her?  "No", I said again.
In the 7-way race Krewson was the winner with only 32.04% of the vote. That means a majority of voters wanted someone else to occupy room 200. This is why I said before the primary that St, Louis needs Ranked-Choice Voting. The final outcome may have been the same — or it may have been different — just depends on how voters ranked their 2nd & 3rd choices. Given how close Tishaura Jones was the result may have been different.
The general election on April 4th will be a 4-way race. Republican Andrew Jones, Libertarian Robb Cunningham, and Green Jonathan McFarland will lose to Democrat Lyda Krewson.
COMPTROLLER:
I like Darlene Green well enough, but there's no Rolex watch for longevity in office. Darlene Green will decimate the Green party candidate in the general.
ALDERMAN:
This year was the odd-numbered wards — plus the 16th to fill a vacancy after Donna Baringer was elected to the state house in November.
Ward 1: Sharon Tyus was reelected in a 3-way race with 44.25% of the vote — most voters wanted someone else.
Ward 3: Brandon Bosley won the race usually occupied by his father. But 29.33% of the vote in the 6-way race shows a majority voted for someone else.
Ward 5: Disappointingly, Tamika Hubbard was reelected. Like other races, a majority of voters picked one of the other 5 candidates in the race. Hubbard got 43.23% of the vote.
Ward 7: The Democratic & Green primary candidates were unopposed, Democrat incumbent Jack Coatar will win April 4th.
Ward 9: This was the one big upset of the primary. Longtime incumbent Ken Ortmann was handily defeated by Dan Guenther. Ortmann for years refused to use email to communicate…relying on phone calls or face to face. Good riddance. Guenther got 64.2% to Ortmann's 35.8%. Guenther will face Green candidate Katie Gore in the general. Gore was unopposed in the primary — she got ONE vote! This is why partisan primaries for local office are a waste of time & money — money that could be spent actually making our city better.
Ward 11: For the first time in years the 11th ward alderman will not be named Villa — because no Villa ran.   Sarah Martin, endorsed by Tom Villa, easily defeated her two challengers with 65.52%. The Green candidate got 3 votes in her unopposed primary race.
Ward 13: Incumbent Beth Murphy was unopposed in her primary, as was the Green candidate. The latter received 4 votes.
Ward 15: Voters overwhelmingly rejected Jennifer Florida's bid to once again represent them in city hall. Megan Green got 66.1% of the votes in the 2-way race. Florida resigned a few years ago when appointed to finish the term as Recorder of Deeds, but she lost the election for a new term.
Ward 16 (Special election): Ald Donna Baringer was elected to the state house to replace termed-out Michele Kratky. Kratky then ran for the aldermanic seat vacated by Baringer — but Thomas Oldenburg defeated her. Republican Abigail Niebling faces an uphill battle in April even in the conservative 16th ward.
Ward 17: Joe Roddy won yet another 4-year term by defeating one primary challenger, he is unopposed in the general.
Ward 19: Sadly, Marlene Davis defeated her primary challenger. with 70.09% of the vote, she is unopposed in the general. Status quo maintained.
Ward 21: With Ald Antonio French in the mayor's race, this became an open seat. John Muhammad won the 3-way race with 44.66%, 2nd place was close with 42.83%.  Muhammad is unopposed in the general.
Ward 23: Vacarro wasn't challenged, is unopposed in the general.
Ward 25: Cohn wasn't challenged, is unopposed in the general.
Ward 27: Ald Chris Carter didn't seek another term. Another Carter ran in the 3-way race, but Pam Boyd won with 48.01%.
PROPOSITION S:
The $5,000 annual fee for short-term (aka Payday) loans was passed citywide but the vote was split along race/geography.
Wards that voted no: 1, 2, 3, 4, 5, 18, 19, 21, 22, 27
Wards that voted yes: 6, 7, 8, 9, 10, 11, 12, 13, 14, 15, 16, 17, 20, 23, 24, 25, 26, 28
The 26th ward was the only ward mostly North of Delmar to vote yes — by just 32 votes. This says to me many are unaware of cheaper alternatives such as this and this.