One of my favorite memories is attending the 2006 Rail-Volution conference in Chicago, the closing plenary session in particular:
Participate in this lively presentation and discussion about the strong commitment to pedestrian accessibility in European cities — a critical hallmark of those cities' livability and sense of community — and how some of those attitudes can "jump the pond" and be adapted in U.S. cities. Learn from one of the world's premier pedestrian experts and hear how Europeans' attitudes toward pedestrians have evolved during the past 50 years. Hear his views on what U.S. cities need to do to increase their pedestrian potential. Also hear from the current CNU president, who has been described as a "fiscally-conservative socialist" and who is nationally recognized for his commitment to light rail and innovative, effective urban design. Learn about his views on the applicability of European pedestrian approaches in the U.S. — what could work, what challenges lie ahead, and what some U.S. cities have already done.
The two speakers were former Milwaukee  mayor and then-Congress for the New Urbanism president & CEO John Norquist and Danish architect Jan Gehl. They debated if Gehl's ideas were universal or limited to his European home turf. Seeing them debate pedestrian issues a decade ago was fascinating to me. At the time I'd just started grad school, later my unfinished capstone project was on pedestrian malls in North America.
Though I disagree with Gehl about the universal application of pedestrian streets, I have huge respect for his lifetime of work and his deep understanding of the European pedestrian. This is what makes him so important — he studied pedestrians in Copenhagen and the obstacles they faced. By the early 1960s cars had severely degraded the public realm there, but over many decades he pushed, studied, and pushed for more change.
A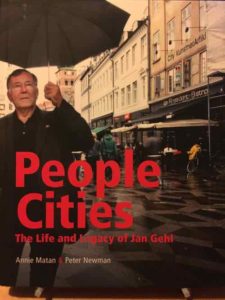 uthors Annie Matan & Peter Newman in People Cities: The Life and Legacy of Jan Gehl look at his work and influence. It's an inspiring celebration of a man who refused to give up on pedestrians and their role in healthy cities.
From the publisher:
"A good city is like a good party—you stay for longer than you plan," says Danish architect Jan Gehl. He believes that good architecture is not about form, but about the interaction between form and life. Over the last 50 years, Gehl has changed the way that we think about architecture and city planning—moving from the Modernist separation of uses to a human-scale approach inviting people to use their cities.

At a time when growing numbers are populating cities, planning urban spaces to be humane, safe, and open to all is ever-more critical. With the help of Jan Gehl, we can all become advocates for human-scale design. Jan's research, theories, and strategies have been helping cities to reclaim their public space and recover from the great post-WWII car invasion. His work has influenced public space improvements in over 50 global cities, including New York, London, Moscow, Copenhagen, Melbourne, Sydney, and the authors' hometown of Perth.

While much has been written by Jan Gehl about his approach, and by others about his influence, this book tells the inside story of how he learned to study urban spaces and implement his people-centered approach.

People Cities discusses the work, theory, life, and influence of Jan Gehl from the perspective of those who have worked with him across the globe. Authors Matan and Newman celebrate Jan's role in changing the urban planning paradigm from an abstract, ideological modernism to a people-focused movement. It is organized around the creation of that movement, using key periods in Jan's working life as a structure.

People Cities will inspire anyone who wants to create vibrant, human-scale cities and understand the ideas and work of an architect who has most influenced how we should and can design cities for people.
The last sentence says it all, though his solutions for other cities might not work here, we can be inspired to find ways to make our cities work for us.
Available through Left Bank Books, publisher, Amazon, and others.
Here's an hour-long presentation by Jan Gehl, note a few words are not safe for work:
In St. Louis we need to change the culture.
— Steve Patterson