I've been using reusable shopping bags for years now, it's just habit. I'm also a fan of laws that ban single-use plastic bags or impose a fee for their use. About 160 cities in 17 states have such laws, source. Discount grocery store chain Aldi has charged for bags for years, encouraging customers to reuse them.
I keep two bags on my wheelchair — both cloth bags I purchased: one at Trader Joe's and the other at Eataly Chicago. The TJ's bag is large, this is my regular bag. The Eataly bag is secondary, in case I want to buy more than the other will hold.  The large cloth bag from Trader Joe's is the same design as the free Farm Aid bag I got in my media kit when the charity concert came to St. Louis in 2009. That well-used bag is in the trunk of our car, along with 2-3 heavy non-fabric bags.
So we have 5-6 bags that get used on a regular basis. Logically, the heavier the bag the more resources it took to produce and transport it. If it gets reused often it is less of a burden on the environment.
Some reusable bags need to be used over 100 times before they're better for the environment than single-use plastic bags. Polyethylene bags need to be used four times, a polypropylene bag must be used at least 11 times, and a cotton bag must be used at least 131 times, according to a study by the U.K. Environment Agency. (MarketWatch: The truth about reusable shopping bags)
I estimate the Farm Aid bag I got in 2009 has been used over 1,000 times. Because of the size, it easily replaces 2-3 typical plastic grocery bags. The newer TJs cloth bag has been used hundreds of times at this point — I occasionally toss it into the washing machine to keep it looking good.
While we get regular use out of 5-6 bags, we have many more not getting used. These days every event, conference, etc has a bag. Attend a major car show, for example, and you could go home with a dozen bags — from one event! We both show restraint at events, taking only one bag to hold materials collected. We go for the highest quality available.
Then what? No, we don't discard them — that would be wasteful. Sometimes a new bag will replace an older one we'd been using regularly. But most end up in our spare closet.
We don't need the closet space, but there's no point to us having all these bags when others might get use out of them. I wasn't even sure how many bags we had, so I got them all out and organized them based on size from small to extra large.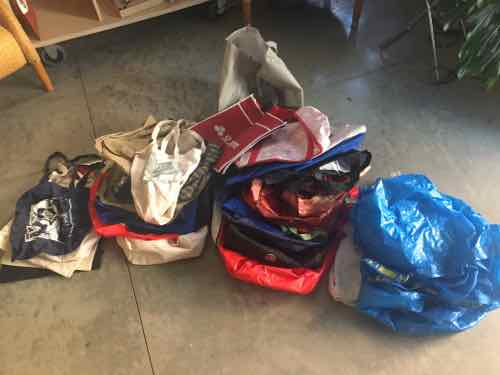 Yes, nearly 40 reusable bags not being reused! Many, however, have been used more than once. Still, I'd love a way to get all of these into the hands of people who will use them to help give up taking single-use plastic bags at stores. Plus we have an assortment of other bags: lunch, courier, etc. I don't want to organize it, but I'd love to see an event where bags are collected from people than distributed to the community.
Any ideas? Does this already exist?
— Steve Patterson