Jamestown Mall in North County closed two years ago. It was over five years ago discussions were going on about redeveloping the site:, see Readers Split on New Urbanist Village at Nearly Dead Jamestown Mall (June 2011)
At the time the mall was still open…barely.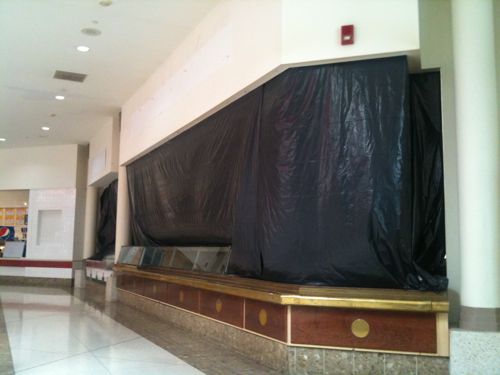 From July 18, 2014:
With the Jamestown Mall quietly locking its doors, officials hope the passing creates an opening to transform a site that has long troubled north St. Louis County residents and leaders.

"The goal is to put the property in a condition where we have reasonable hope to develop it to serve the citizens of North County," said Andrew Ruben, a senior vice president of the St. Louis Economic Development Partnership.

The County Planning Commission is expected to begin the process Monday by approving a declaration to mark the 1.2 million-square-foot parcel as a "blighted area." (Post-Dispatch)
A few weeks later Darren Wilson shot & killed Michael Brown.
In late 2014 someone went exploring inside the shuttered mall, followed by others who broke in and damaged stuff.
How long will it sit?
— Steve Patterson