Before this year, and despite being an active voter for 30+ years, I'd never seen a presidential candidate in person. At noon today Republican frontrunner Donald Trump will be speaking at the Peabody Opera House — less than half a mile away from my downtown loft. I won't go hear him speak — not worth minimal effort.
A week ago, however, I traveled 20+ miles to hear Sen. Bernie Sanders at SIUE's Vadalabene Center. As I indicated on February 2nd, I already voted for Bernie Sanders via absentee ballot. Today's post is mostly about my journey there and back via public transit.
You're probably thinking it took forever, the answer is no & yes.  Getting there was as fast as driving, coming back took three times as long.
Each weekday morning the Madison County Transit 16X Edwardsville-Glen Carbon Express makes two pickups from St. Louis, it makes nine drop offs. At 7:02am I caught the first 16x at 6th & Washington Ave.  Thirty-six minutes later I was on the SIUE campus.
Driving from my loft would've required my husband to use our Enterprise CarShare membership so I could use our car, it would've taken 36-41 minutes for me to drive there. With the time it would've taken me to walk from parking to the line using my wheelchair on public transit saved me time — and money.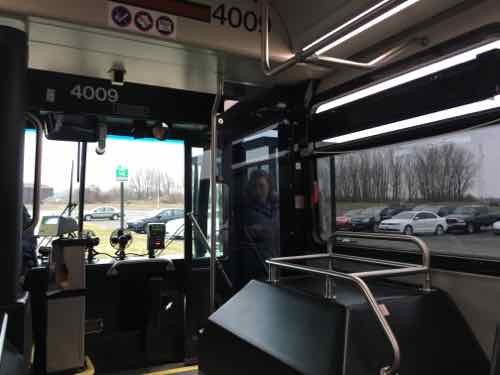 Upon arrival at the campus I didn't stop to photograph — I wanted to get to get in lime at the Vadalabene Center. As I was making my way to the back of the line a volunteer stopped me and said I could follow her to the disabled entrance.
I already knew the next express bus to St. Louis wasn't for another 4 hours — I'd need to take two buses and a train to get home.
I had two options:
#19 to Collinsville > #18 to Emerson Park > MetroLink to St. Louis
#4 to Granite City > #5 to Emerson Park > MetroLink to St. Louis
Both were within minutes of each other — just shy of two hours total. Based upon when I arrived, the #2 option via Granite City would be next. While waiting I began talking to someone else who attended the event, we talked much of the way until I got off the train downtown. Turns out he's married to a woman I've known for at least a decade, they live in Webster Groves!
It was worth all the trouble to hear & meet Bernie Sanders!  Missouri & Illinois both hold primaries on Tuesday, along with Ohio, Florida, and North Carolina — please vote.
— Steve Patterson