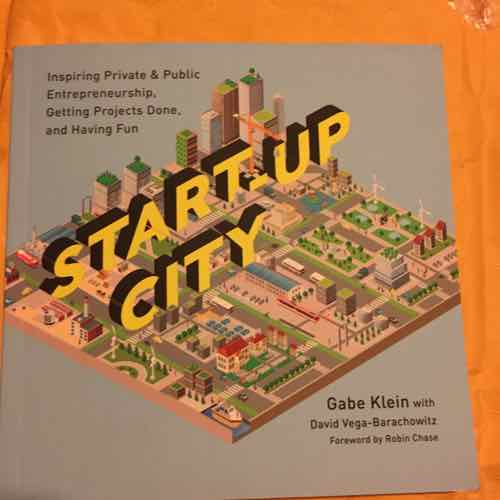 I just received what looks to be a great little book: Start-Up City: Inspiring Private & Public Entrepreneurship, Getting Projects Done, and Having Fun by Gabe Klein with David Vega-Barachowitz, forward by Robin Chase.  It's literally a little book — 6×6. But it has 256 pages beautifully filled with 95 color photos & illustrations.
With the advent of self-driving vehicles and other technological shifts upon us, Gabe Klein asks how we can close the gap between the energized, aggressive world of start-ups and the complex bureaucracies struggling to change beyond a geologic time scale. From his experience as a food-truck entrepreneur to a ZipCar executive and a city transportation commissioner, Klein's career has focused on bridging the public-private divide, finding and celebrating shared goals, and forging better cities with more nimble, consumer-oriented bureaucracies.
In Start-Up City, Klein, with David Vega-Barachowitz, demonstrates how to affect big, directional change in cities—and how to do it fast. Klein's objective is to inspire what he calls "public entrepreneurship," a start-up-pace energy within the public sector, brought about by leveraging the immense resources at its disposal. Klein offers guidance for cutting through the morass, and a roadmap for getting real, meaningful projects done quickly and having fun while doing it.
This book is for anyone who wants to change the way we live in cities without waiting for the glacial pace of change in government.
From food truck to ZipCar to municipal bureaucrat with stints in Washington D.C. & Chicago — Gabe Klein has a wide range of experience to share.  The contents show you how the book is organized:
Preface
Introduction
Why Should You Care About Getting S*it Done in Cities?

Chapter 1. Lesson #1: Don't Be Afraid to Screw Up and Learn
It is necessary to make mistakes. Just make them as quickly as possible, learn from them, and try not to repeat.

Chapter 2. Lesson #2: Manage S.M.A.R.T.
On managing others, empowering your team, and shamelessly promoting their accomplishments

Chapter 3. Lesson #3: Where there's a will, there's a way
On how to evaluate your budget quickly, assess and align your stakeholders, and build beautiful cities (in no time)

Chapter 4. Lesson #4: Sell Your City
On marketing your projects, communicating with the public, and celebrating the dastardly

Chapter 5. Lesson #5: Fund Creatively
On how to find funding where none seemingly exists, making the most of a slim budget, and getting creative with the basics

Chapter 6. Lesson #6: Bridge the Public-Private Divide
On forging a proactive bureaucracy, and making life better for everyone in the process

Chapter 7. Lesson #7: Prepare for Disruption
On the present and anticipated technological shifts and business models that are transforming urban life and challenging the status quo

Chapter 8. Lesson #8: Drive Change
Understanding the implications of autonomous, connected mobility, what it means for cities, and how government can make sure they are driving change, rather than reacting to it

Conclusion: The Big Picture and You
The book looks easy to read, will make good reference material. You can preview the book at Island Press, ordered from Left Bank Books here.
— Steve Patterson