In June 2013 I was excited a diner was going to reopen at Tucker & Washington, by the same folks that opened Empire Pizza & Deli around the corner.
The diner never opened, and now, the associated Empire Pizza & Deli in the same building has closed. Lately the hours were erratic. but then it closed.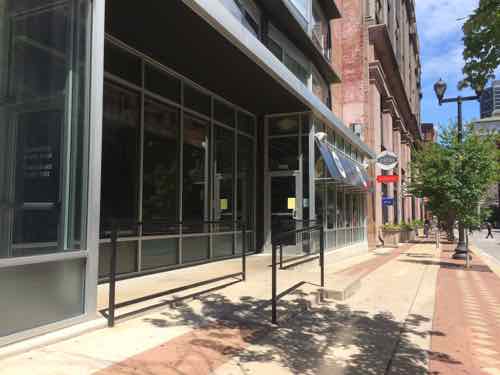 You'd think, given their restaurant backgrounds, they could've made it work:
Owners Mike and Dave Rook — the latter formerly executive chef at Copia — are the brothers of acclaimed Annie Gunn's chef Lou Rook III, and all three men are the son of Lou Rook Jr., who founded King Louie's Drive-In in Wood River, Illinois. Dave and Mike are working to open King Louie's, a 24-hour diner and bar & grill concept, in the space adjacent to King Louie's Empire Deli & Pizza. (2013: Riverfront Times)
The registered agent for RRR and R, LLC is Louis Earl Rook, Jr.
Someone please reopen a pizza by-the-slice shop downtown!
— Steve Patterson