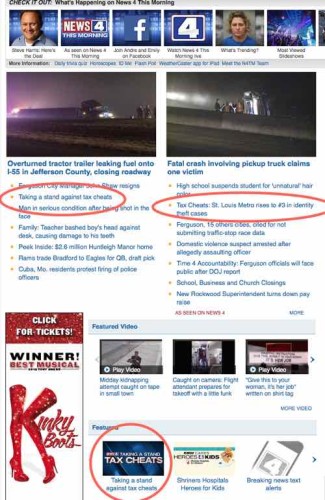 When we watch television (vs Netflix, etc) it's usually CBS — KMOV 4.1 here — unfortunately their promos on tax scams/cheats seem nonstop. Wednesday morning I checked local news sources for similar reports. KMOV had 3 mentions on their homepage, the others didn't — but many had stories from this month:
These stories are designed to frighten you into worrying about someone steeling your refund — you go to file and someone else has already filed a return for you — taking your refund.  Meanwhile, commercials for auto dealers talk about using your refund as a down payment — some will even double it.  So a $3,000 refund becomes a $6,000 down payment.
Many get excited by a big refund — the bigger the better. The ideal, however, is little or no refund. Why? If you get a huge refund it means you've lent the federal & state governments your money interest-free.  A $7800 refund means you could've had another $15 in your pocket every week — $65/month.  I know some people use their refund as a savings plan, if so, put that amount into a savings plan every pay period rather than letting Uncle Sam hold it. In savings it'll earn interest and should an emergency arise  — like car trouble — you can access your money.
You want your withholding set so you get little to nothing back at tax time. You can use the IRS's Withholding Calculator to determine how your W-4 should be completed.
If you get a big annual tax refund you are leaving yourself vulnerable to fraud.
— Steve Patterson