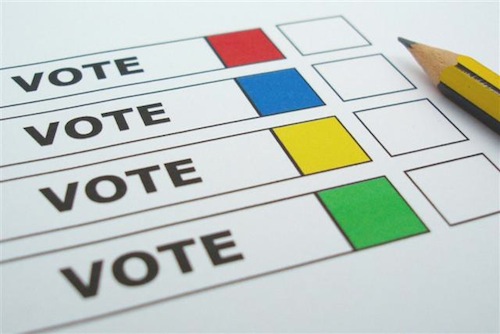 Measles, once largely eradicated in the US, is back:
Ninety-four people have now been infected with measles across eight states; 67 of those cases are linked to the Disneyland park.

"We don't know exactly how this outbreak started but we do think it was likely a person infected with measles overseas," said Dr. Anne Schuchat of the Centers for Disease Control and Prevention.

Schuchat says the reason for the outbreak is because people are failing to get vaccinated. (Time)
This recent outbreak has intensified the debate on vaccinations, making it a great topic for today's poll.  Here's the exact poll question:
When it comes to childhood diseases like measles, mumps and whooping cough, should all children be required to get vaccinations?
I'm trying something different today, for each of the three answers I'm asking you to select one based on your political view (Democrat, Independent, Republican) — this will permit comparison to a national poll.  The Sunday poll is at the top of the right sidebar, is open until 8pm.
On an unrelated health note, it was seven years ago today that I had a massive hemorrhagic stroke, the statistics aren't pretty:
Stroke is the No. 3 cause of death in the U.S., behind heart disease (with which it is closely linked) and cancer.
Stroke affects more than 700,000 individuals annually in the United States (approximately one person every 45 seconds). About 500,000 of these are first attacks, and 200,000 are recurrent attacks.
Someone in the U.S. dies every 3.3 minutes from stroke
Stroke is the leading cause of disability among adults in the U.S.
While subarachnoid hemorrhage (SAH) represents only about 7 percent of all strokes, it is the most deadly — with more than a 50 percent fatality rate. Of the survivors, approximately half will suffer permanent disability.
I was very fortunate, enjoy today's game!
— Steve Patterson