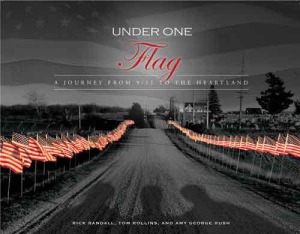 On Tuesday I told you about Convention Center Follies: Politics, Power, and Public Investment in American Cities by Heywood T. Sanders and a week ago about about five St. Louis books. Today's book, a beautifully photographed hardcover coffee table book, deserved its own post:
To mark the tenth anniversary of the 9/11 attacks, a group of volunteers acknowledged the fallen by posting 2,996 American flags at a city park in St. Louis, Missouri. One of the flags honored New York City firefighter Michael Weinberg, a first responder who died Ground Zero. In a twist of fate, Michael's flag went unnoticed at auction after the event but, as a result, would make a remarkable journey through the Midwest. Under One Flag chronicles this journey with poignant, richly illustrated stories of American heroism and the conviction of those intent on paying tribute. Key among the latter are grassroots organizer Rick Randall and also Larry Eckhardt, known as "The Flag Man" for placing flags along the routes of soldiers' funerals. Through Larry's efforts, Michael's flag would fly in Preston, Iowa, to honor Marine Corporal Zach Reiff, who died serving his country in Afghanistan. Under One Flag shows how lives interweave when compassion serves as the common tie. It is the collective story of people who want nothing but give everything.
Under One Flag: A Journey from 9/11 to the Heartland is published locally by Reedy Press.
— Steve Patterson
b
b
b
b