The last week several local police officers were suspended from duty. First was St. Ann's Lt. Ray Albers:
A St. Ann police lieutenant has been suspended after pointing a semi-automatic assault rifle at a protester in Ferguson late Tuesday night, police said. (stltoday)
On Friday August 23rd we heard about two more suspensions. Here's one of the two, suspended due to statements made in a YouTube video:
St. Louis County Police Chief Jon Belmar said officer Dan Page, a 35-year veteran of the department, has been suspended pending a review by the internal affairs unit. The video was brought to Belmar's attention by CNN reporter Don Lemon, who had previously brought Page to the department's attention after complaining Page shoved him. (stltoday)
I knew the name of the last one as the TV news anchor began introducing the story; 'an officer from suburban Glendale Police in trouble for Facebook comments' was roughly how the story was introduced. I immediately knew the name they'd say: Matthew Pappert.
A police officer just 15 miles away from the ongoing protests in Ferguson, Mo. allegedly said he thinks the protesters should have been "put down like rabid dogs."

Officer Matthew Pappert is a police officer with the Glendale Police Department. He has been an officer since 2008. Pappert received the 2009 City of Glendale Community Service Award and the 2013 Kirkwood American Legion Post and Kirkwood Optimist Club Public Safety Award. (St. Louis Area Cop Thinks Protesters Should Be 'Put Down Like Rabid Dogs')
You can click the link above for screenshots of Pappert's statements, which include: "Where is a Muslim with a backpack when you need him?" More sources:
So how did I know his name in advance? I learned about Matthew Pappert on July 21st, via Facebook, of course. It started with the following image I took that morning:
From across Market St I saw the traffic cop pull up and get out of the vehicle, I thought to ticket the truck parked in the bus stop I needed to use. As I crossed Market at 16th the truck pulled out and the officer went in to the building, presumably for traffic court.
Not long after posting, the photo was shared by someone. With the privacy set to public I was able to see the comments, I wasn't prepared for what I read:
Who is this Matthew Pappert guy? Oh look, his Facebook profile says he's a patrolman for the City of Glendale, a small suburb of less than 4,600 people — 96.7% of them white (Wikipedia).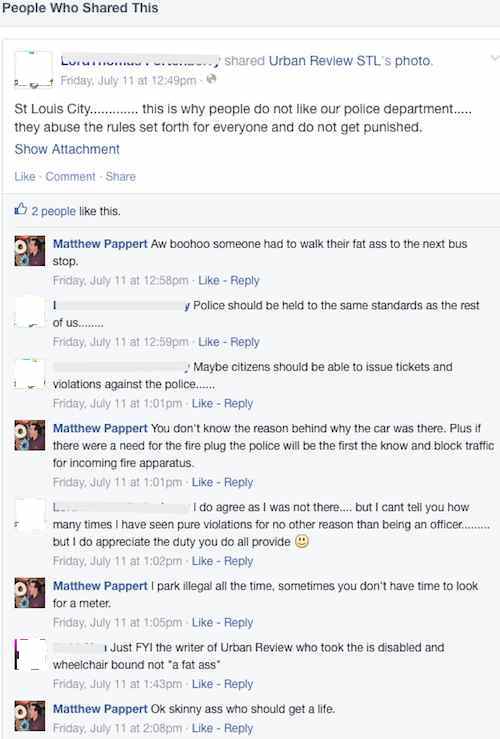 I was furious so that night I used Glendale's "contact us" form to email the police department. I never heard back from Glendale and I forgot about it — until last Friday's evening news. Back to the website I went, but I couldn't find the name of the chief. I called their non-emergency number and explained to the staff person. I then typed out a letter and faxed it to the attention of the chief, including my email address. I heard back from Chief Jeffrey within an hour:
Mr. Patterson,

Thank you for bringing the information you faxed to me attention. This will be included in the internal investigation we are currently conducting. As stated in my previous press release, the comments and posts by Matthew Pappert absolutely do not reflect the views & opinions of the Glendale Police Department and City of Glendale, Missouri. That includes the comments he posted during your correspondence dated July 11, 2014. I am not sure why we did not get your previous emails but I assure you it will be looked into as well.

Sincerely,
Jeffrey Beaton
Chief of Police
I sent supporting documentation via email. On Monday I heard from Captain Bob Catlett, Glendale's Assistant Chief of Police, who's investigating. We've been corresponding back and forth. After reading the statement from Pappert's lawyer, I emailed Capt Catlett back to assure him the recent vile comment from Pappert about Ferguson were not an "aberration." It turns out many in the LGBT community are familiar with his right-wing outbursts.
If  Pappert resumes working, I'd advise all non-whites to avoid Glendale Missouri.
UPDATE: The day this post came out Albers resigned from St. Ann, Pappert was fired by Glendale. The next day Page retired from St. Louis County.
— Steve Patterson