Parking is a perceived issue all over the region, even in small towns like Edwardsville IL. The public school district is considering purchasing a historic church, and an adjacent house owned by the church, to create more parking for Columbus elementary school:
The general terms of the proposed sale, which are all subject to approval by both the First Presbyterian Church congregation and the District 7 Board of Education, are that the district will pay First Presbyterian Church $1.3 million from impact fees over a 10-year period. Impact fees are money collected from developers who build homes in Edwardsville and Glen Carbon. The fees can only be used for new construction or the purchase of property.

The other terms of the negotiation are that First Presbyterian Church would have four years to vacate the existing church facility, and the church would be responsible for preparing the ground to leave a clean, level site. (District 7 looks to turn church into parking lot)
The $1.3 million is just for the land, it'll cost more to actually develop the parking lot.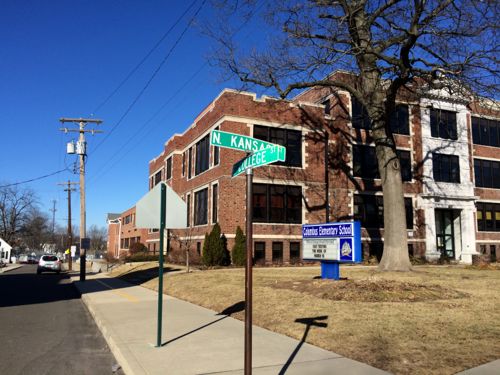 A friend drove me over to Edwardsville last week so I could check it out in person. What we found is the school has a small parking lot for staff, a large asphalt playground, and has use of a couple of small parking lot owned by the church. No doubt when the church has a weekday event, like a funeral, parking gets tight. Otherwise both appear to have coexisted for decades.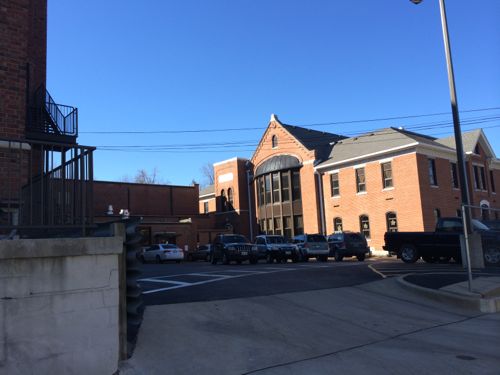 I don't live in Edwardsville, nor am I a parent, so I turned to the Edwardsville School District 7 Parents group on Facebook to see the discussion. There were several postings, here's some quotes I selected from hundreds:
Feb 26: "Anyone know why Columbus needs a $1.3 million parking lot? More than say, teams, all tenth graders on campus, enough honors classes, a daily middle school band/orchestra program?" — LW

"because there is ZERO parking at the school and the church next door was kind enough to let the school "share" their parking lot. The church is moving and the new owners may not be as accommodating!" — LC 

"We always parked in that lot…..sad to see the church go…I went to preschool in that church" — JG

"The church isn't moving unless the building is purchased. We've always worked with the district for parking and that's not a big deal. My 'big deal' is a $1.3 million parking lot. I have a 7th grader who can't have team teaching or have band every day because there's no money, a junior who spent 40 minute a day last year being transported off campus because there weren't enough classrooms, and it makes no sense financially. If there's money to buy property and or build something with, maybe an addition to the high school would be a goal to look toward." — LW

Feb 26: "Is it true that the Presbyterian Church property was assessed at $750,000? If so, wouldn't that lend one to believe that the tax payers are indeed paying for demolition?" — TM
It appears the parents in the district are split; some say the parking situation is poor, while others say parking has always been bad but the district has higher priorities. I do know the school & church have managed to share parking in the area for years but it the church is razed much of the parking will sit empty each day.
This is all possible because some members of the dwindling congregation at the First Presbyterian Church of Edwardsville want to build a new church nearly 4 miles away. This isn't new, they bought 28+ acres of farmland in January 2000, paying $390,000. In November 2006 I posted how they voted to build on the farmland.
Attendance at the church has reportedly dropped in the 7 years since voting to proceed with the plan to build a new church.  I can see the church agreeing to sell  — but in four years still not having a new building ready. Then what? Also, does the school district not have more pressing building needs?
— Steve Patterson