In April 2006 it looked like Opus Development would be moving forward on a high-rise condo tower at the NE corner of Lindell & Euclid. They'd revised the base and been granted a variance to permit the height. However, the project was abandoned even before the economy crashed.
Now Opus is back with a new proposal for the corner, Ald. Lyda Krewson tweeted on December 6th "Lindell Residences proposed for Lindell/Euclid – 217 first class apts." with this pic attached:
Back in 2006 the historic code required heights to be relative to other buildings. The language, like many of our historic codes, was poorly written. Today the Central West End's form-based code isn't wishy-washy: maximum of 12 stories at this location.
The new form-based code and the mixed-use project one block south with apartments over a Whole Foods likely renewed interest in this conner. Ok, it is apartments instead of $300k condos. No big deal, when I rented an efficiency in The President 2 doors to the east in 1990 an A.G. Edwards VP rented the large apartment next door! Rental apartments aren't a bad thing at all.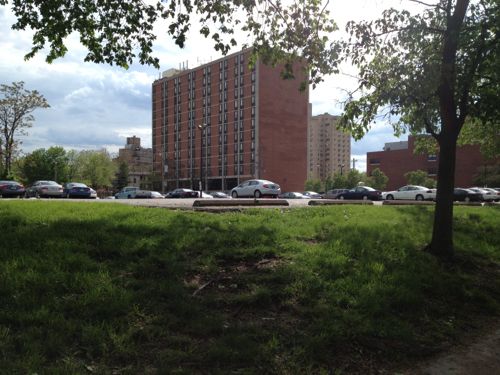 While a tall tower makes the skyline more interesting, the latest proposal will have a bigger positive impact. The decision to go underground with most of the parking makes the base more appropriate.
I'm glad the 26-story building proposed in 2006 didn't happen, the new proposal was worth the wait.
— Steve Patterson