Book publishers have been busy this year, here are eight books I received that expand and illustrate the latest efforts of planners to design cities & suburbs for people, not just their cars.
Thoroughly updated to cover the latest environmental, economic, and social implications of urban design, Charter of the New Urbanism, Second Edition features insightful writing from 62 authors on each of the Charter's principles. Featuring new photos and illustrations, it is an invaluable resource for design professionals, developers, planners, elected officials, and citizen activists. Real-world case studies, plans, and examples are included throughout.
My take: An important update to the 1999 original. A must-read for advocates & critics of New Urbanism.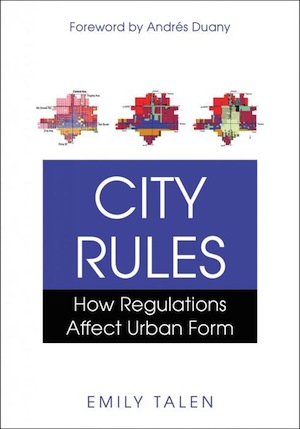 Many planners look down on zoning and think of it more as limiting rather than enabling. While the initial intentions behind zoning were noble and egalitarian, zoning became a huge disappointment in many cities, failing to either protect the public good, promote public health, or keep nuisances away from people. These discrepancies between zoning intentions and its outcomes have become subjects of heated debate among planners and policymakers. For example, how does top-down zoning stack up against the virtues of self-regulating voluntary cities? Does Houston's model of land development, regulation based solely on the inner workings of the private market, exemplify a more efficient, democratic, and egalitarian planning mechanism compared to the growth boundaries and zoning laws of Portland, Oregon? How has zoning affected residents' quality of life? And, can we conclude that zoning regulations have become instruments for snobbism and exclusion? Against the backdrop of these questions and debates, City Rules: How Regulations Affect Urban Form critically examines zoning and explores why it has sometimes harmed more than helped cities.
My take: This book has long been needed to show the unintended consequences of use-based "Euclidean" zoning, how we need to change our regulations to achieve a more desirable outcome.
Suburbs deserve a better, more resilient future. June Williamson shows that suburbs aren't destined to remain filled with strip malls and excess parking lots; they can be reinvigorated through inventive design. Drawing on award-winning design ideas for revitalizing Long Island, she offers valuable models not only for U.S. suburbs, but also those emerging elsewhere with global urbanization.

Williamson argues that suburbia has historically been a site of great experimentation and is currently primed for exciting changes. Today, dead malls, aging office parks, and blighted apartment complexes are being retrofitted into walkable, sustainable communities. Williamson shows how to expand this trend, highlighting promising design strategies and tactics.
My take: Excellent color color illustrations show how to design better suburbs, without trying to make them into Manhattan.  A great design resource!
The book is in three parts. Part 1 analyses the main issues for urban planning and development – in economic development and job generation, sustainable development, housing policy, transport and development mechanisms – and probes how practice in the UK has fallen short.

Part Two embarks on a tour of best-practice cities in Europe, starting in Germany with the country's boosting of its cities' economies, moving to the spectacularly successful new housing developments in the Netherlands, from there to France's integrated city transport, then to Scandinavia's pursuit of sustainability for its cities, and finally back to Germany, to Freiburg – the city that 'did it all'.

Part Three sums up the lessons of Part Two and sets out the key steps needed to launch a new wave of urban development and regeneration on a radically different basis.
My take: Hall takes a complex problem and breaks it down into manageable lessons.
Timothy Beatley has brought together leading experts from Paris, Freiburg, Copenhagen, Helsinki, Heidelberg, Venice, Vitoria-Gasteiz, and London to illustrate groundbreaking practices in sustainable urban planning and design. These cities are developing strong urban cores, building pedestrian and bicycle infrastructure, and improving public transit. They are incorporating ecological design and planning concepts, from solar energy to natural drainage and community gardens. And they are changing the way government works, instituting municipal "green audits" and reforming economic incentives to encourage sustainability.
My take: Contributors look at 7 European cities, then Beatley draws conclusions. I've not yet visited Europe so I don't have personal experience to draw from, but now I want to go more than ever.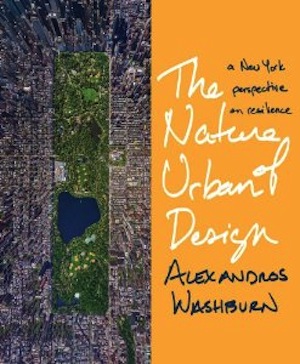 In this visually rich book, Alexandros Washburn, Chief Urban Designer of the New York Department of City Planning, redefines urban design. His book empowers urbanites and lays the foundations for a new approach to design that will help cities to prosper in an uncertain future. He asks his readers to consider how cities shape communities, for it is the strength of our communities, he argues, that will determine how we respond to crises like Hurricane Sandy, whose floodwaters he watched from his home in Red Hook, Brooklyn.
My take: Washburn helps the reader look at the city differently, and care about its future. His approach works regardless of your city.
The retail environment has evolved rapidly in the past few decades, with the retailing industry and its placement and design of "brick-and-mortar" locations changing with evolving demographics, shopping behavior, transportation options and a desire in recent years for more unique shopping environments.

Written by a leading expert, this is a guide to planning for retail development for urban planners, urban designers and architects. It includes an overview of history of retail design, a look at retail and merchandising trends, and principles for current retail developments.
My take: St. Louis planners, aldermen, retail developers, and urban naysayers need to study this book cover to cover!
A highly illustrated reference tool, this handbook provides comparative visual analysis of major urban extensions and masterplans around the world. It places an important new emphasis on the processes and structures that influence urban form, highlighting the significant impact that public or private landownership, management and funding might have on shaping a particular project. Each of the book's 20 subjects is rigorously analysed through original diagrams, scale drawings and descriptive texts, which are complemented by key statistics and colour photography. The case studies are presented in order of size rather than date or geographical location. This offers design professionals, developers and city planners, as well as students of architecture and urban design informed organisational and formal comparisons, leading to intriguing insights.
My take: Wow, so much useful information is packed into this book, presented in a way to make it easily accessible.
— Steve Patterson