There's nothing worse than wondering if your bus is on time or running behind. Now we can check to see!
Here's a recent Metro press release:
Metro transit customers asked for newer technology to help them track MetroBus arrival times and now it is here. When Proposition A passed, Metro promised to use those funds to build a better transit experience. The first phase of technology advances to keep MetroBus customers better informed about bus stop arrivals is now available on www.metrostlouis.org.

"We are really excited to be able to bring this new technology to our customers, but we won't stop there," said Ray Friem, Metro Chief Operating Officer Transit. "In the next year, we hope to roll out the cell phone application. That will mean you can stand at your bus stop, punch in the stop number on your smart phone and find out when to expect your bus."

Here's how the new online technology works. Go to the Metro website, look for the Plan Your Trip area near the top right of the screen and select Metro Trip Planner. Then there are two choices.
1. Use the left side of the screen to use trip planner the way you always have, or
2. Use the map to click on your departure location. A box will appear and allow you to click on "Find nearby stops." From there you can:

• Click on the yellow or blue circle where you want to catch the bus. Yellow circles show "time points." Operators do not leave early from a time point. The blue circle shows a regular bus stop. Please remember to arrive at your stop at least five minutes early. Depending on traffic conditions, a bus may arrive and leave early from a bus stop that is not a time point. After you have selected your preferred stop:
• Click on "Get next departures." Included in the information box is the route, the direction (Dir), scheduled arrival time (Sch) and estimated arrival time (Est) if the estimated arrival time is available.
• The majority of our MetroBus vehicles are now equipped with automatic vehicle location devices (AVL) and that allows us to track where the buses are at all times. Eventually, AVLs will be installed on every vehicle in our MetroBus fleet. If the MetroBus vehicle that is headed to your stop is AVL equipped, the Estimated Arrival column will show a time. When you compare Scheduled Time (Sch) to the Estimated time (Est) you will know if the bus is running early, on time or behind schedule.
• If the MetroBus does not yet have AVL, then the Estimated Arrival column will display 'NA' for "not available."
Customers who need assistance planning their trips, may call 314-231-2345 in Missouri or 618-271-2345 in Illinois Monday through Friday from 7:30 a.m. to 4:30 p.m. 
The site is easy to use at home/work on a computer, laptop, or tablet. No mobile optimized site or app yet.
It is easiest to look up times based on a bus stop number, so I've made note of the stop numbers near me at 16th @ Olive:
Eastbound (South): #15146
Westbound (North): #2605
To go west on the #10 I want Metro's northbound route. Sounds confusing but it makes sense when you look at the route map. I still need to look up a few others on Washington and on 14th.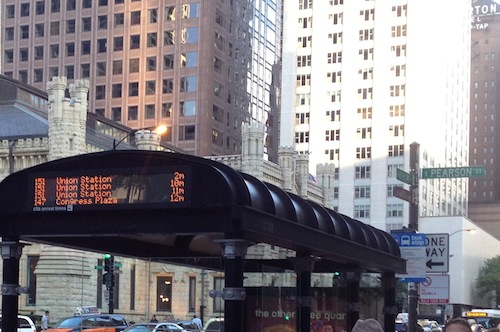 Once the information is available at shelters I'll be really excited. I'm very glad Metro is making progress.
— Steve Patterson