In architecture school I had two semesters of classes on materials, so when I read sentences like the following I get irritated:
Today, the 750-foot-long face of the old Cotton Belt Rail Depot is in pretty rough shape, a wall of cracked cement and busted-out windows, with a string of graffiti wherever the taggers could reach. (stltoday)
"Cracked cement?" First, what is cement?
The common name for Portland cement, the most important modern construction material, notably as a constituent of concrete. In the manufacturing process, limestone is ground into small pieces (about 2 cm). To provide the silica (25%) and alumina (10%) content required, various clays and crushed rocks are added, including iron ore (about 1%). This material is ground and finally burned in a rotary kiln at up to 1500°C, thus converting the mixture into clinker pellets. About 5% gypsum is then added to slow the hardening process, and the ground mixture is added to sand (for mortar), gravel and crushed rock (for concrete). When water is added, the cement solidifies gradually, undergoing many complex reactions. The name "Portland" cement arises from a resemblance to stone quarried at Portland, England. (click image at right for source)
Cement is an important ingredient used to manufacture concrete, which is what the Cotton Belt building is made of.
There are three basic ingredients in the concrete mix:

Portland Cement
Water
Aggregates (rock and sand)

Portland Cement – The cement and water form a paste that coats the aggregate and sand in the mix. The paste hardens and binds the aggregates and sand together.

Water- Water is needed to chemically react with the cement (hydration) and too provide workability with the concrete. The amount of water in the mix in pounds compared with the amount of cement is called the water/cement ratio. The lower the w/c ratio, the stronger the concrete. (higher strength, less permeability)

Aggregates- Sand is the fine aggregate. Gravel or crushed stone is the coarse aggregate in most mixes. (ConcreteNetwork.com)
Thus, none of the following exist:
A cement sidewalk
Cement blocks
Cement silo
You get the idea…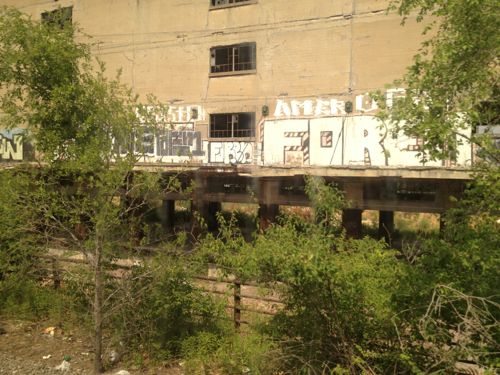 The Rally Saint Louis project is very interesting, click here for information.
— Steve Patterson